Arts and Culture
Your script, "Madam Secretary"
---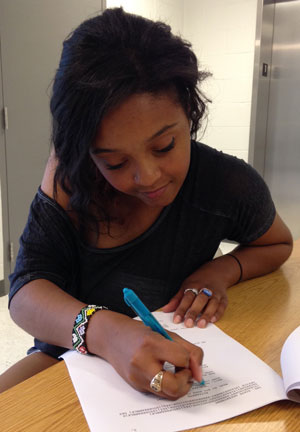 Mia Brabham working on her script
It's not research as usual for students writing TV episodes based on the CBS show "Madam Secretary."
"It's one thing to create a story, plot and characters on your own, but to see a big-time show on CBS every Sunday night and then be asked to write an episode for it is completely thrilling," said Mia Brabham, a junior media arts and design major. 
"Madam Secretary" is a political drama created by JMU alumna Barbara Hall, a professional writer with more than 30 years of experience. The show follows the character of Elizabeth McCord, a CIA analyst who is promoted to U.S. Secretary of State.
During the Los Angeles study abroad program this past summer, Thomas O'Connor, professor of media arts and design, invited Hall to speak with students. He found out then that she was launching a new show in the fall. 
"She happened to be getting ready for 'Madam Secretary,'" said O'Connor. "I thought it would make sense to have that be the dramatic assignment" for the SMAD scriptwriting class.
After O'Connor pitched the idea of students writing episodes based on "Madam Secretary," Hall sent him the shooting script for the pilot episode along with a 10-page plot outline. The script and plot outline gives the students "a chance to model not only the structure, but their writing after professionals' work," said O'Connor.
The students work in groups of three and integrate three different storylines together in their episode. The first storyline follows global politics and international relations. The second storyline follows the day-to-day operations and disputes in the state department. The third storyline follows Elizabeth McCord's home life.
"We had to research how the U.S. Department of State runs, we had to stay up to date on international and national news, and we even had to research the actual show," said Brabham.
Using this research, students create a storyline pitch that they present to the other students in the class. After getting feedback, students rework the storyline and write a 10-page scripted teaser. Then they cast and direct a play reading using their classmates as actors. The final part of the assignment is to write a 10-page plot outline that follows the format of the one Hall provided.
During the three weeks that students are developing all of these things, they have to continue to research because things can change in the real world or the show.
"This lead us to constantly change and update our episode in order for it to adhere to current events in the world," said Shelby Matyus, a junior media arts and design major. "Because our script had to work directly off what was happening in the show, if a character died during one of the actual 'Madam Secretary' episodes, we couldn't use that character."
The episodes take a lot of work and revisions, but students get a practical look at what it takes to work in television. "The point is whenever you are writing fiction or non-fiction you have to do research," O'Connor said. "It's precisely what the writers at CBS are doing under Barbara."
Through the hard work, students get real world experience and inspiration.
"What I loved about this is that it was based on the work that an actual JMU alum did herself. She is making a name for herself in the entertainment industry, doing what she loves," Brabham said. "It was completely inspiring to work on this and think to myself: 'Hey, this can really happen. I can do this too.'"
###
Published: Monday, May 4, 2015
Last Updated: Wednesday, November 29, 2017