News
Ceremony welcomes new nursing students to profession
---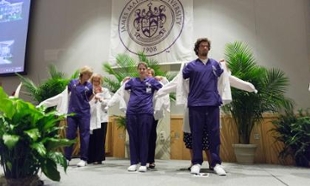 Three new JMU nursing students receive white coats during a ceremony Monday welcoming them to the profession.

James Madison University held a White Coat Ceremony on Monday evening to welcome 90 new nursing students to the profession and to set clear expectations regarding their future role as nurses.
JMU Nursing was one of 100 nursing programs in the country selected to host the ceremony, which was funded by a grant from the Arnold P. Gold Foundation.
The event, held at the Festival Conference and Student Center, featured the recitation of an oath to provide compassionate and high-quality care as well as an address by Dr. Deborah Trautman, chief executive officer of the American Association of Colleges of Nursing. Participants received white coats and commemorative pins.
The ceremony also included remarks from Dr. Julie Sanford, professor and head of nursing at JMU, and Dr. Sharon Lovell, dean of the College of Health and Behavioral Studies. Dr. Joanne Gabbin, professor of English at JMU and director of the Furious Flower Poetry Center, read a poem in honor of the occasion.
"The ceremony serves as a reminder to students of the commitment to treat patients and their family members just as they would want their own family members treated — with compassion," Sanford said.
###
Aug. 26, 2014
Published: Tuesday, August 26, 2014
Last Updated: Thursday, October 20, 2016