Nobel winning economist to speak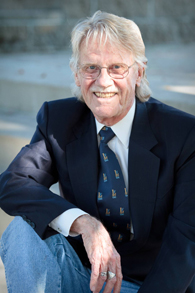 Photo courtesy of chapman.edu
Dr. Vernon L. Smith, professor of economics and law at Chapman University and 2002 Nobel laureate in economics, will speak at James Madison University on Wednesday, Dec. 4, 2013 at 4 p.m. in Grafton–Stovall Theatre. The title of Smith's talk is "Adam Smith's Humanomics: From Propriety and Sentiments to Property and Wealth."
As a professor at George Mason University, Smith shared the 2002 Nobel Prize in Economic Sciences for his efforts in developing methods for laboratory experiments in economics that have helped to understand economic behavior. He shared the 2002 prize with Dr. Daniel Kahneman.
Smith has joint appointments at Chapman University's Argyros School of Business and Economics and the School of Law. He has authored or co-authored more than 250 articles and books on capital theory, finance, natural resources economics and experimental economics. He is a member of the National Academy of Sciences and has received numerous awards and honors in the field of economics.
Smith's lecture is part of the 2013 James Madison University Economics Seminar Series sponsored by the Department of Economics. The lecture is open to the public.