News
JMU a national leader in study abroad
---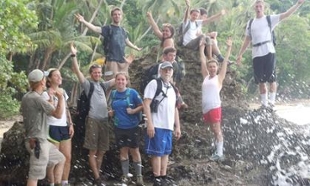 Students in one of JMU's summer study abroad programs in Costa Rica.
James Madison University remains one of the top master's-level institutions in the country in study-abroad participation, according to a report released this week by the Institute of International Education.
The Open Doors 2013 report, which covers the 2011-12 academic year, ranks JMU second nationally in the total number of students who studied abroad (1,071) and second in participation in short-term programs (710), which are generally offered in the summer.
Additionally, JMU is 7th in semester-long programs — up five spots over the previous year — and 12th in yearlong programs, up from 15th.
Dr. Lee Sternberger, associate provost of academic affairs and executive director of international programs, said as of Nov. 1, study-abroad applications at JMU were up 21 percent, "again demonstrating the interest of our students and faculty, and the importance of global experiences." 
Study-abroad participation in the U.S. jumped 3 percent to a record 283,332 students in 2011-12, according to the report. More U.S. students went to Latin America and China, and there was a rebound in those studying in Japan as programs there reopened following the earthquake and tsunami of March 2011.
From its inaugural Semester in London in 1979, JMU's study abroad programs have grown and flourished. Today JMU students enjoy literally a world of opportunities for international study, including semester programs in Antwerp, Belgium; Salamanca, Spain; Florence, Italy; Beijing; and London; graduate programs in Florence and Malta; and more than 60 short-term programs spanning the globe.
For more information on JMU study abroad programs, click here.
###
Nov. 13, 2013
Published: Wednesday, November 13, 2013
Last Updated: Thursday, October 20, 2016