New speaker series focuses on citizen education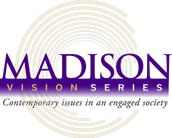 To honor James Madison and his conviction that cultivating an informed and engaged citizenry is essential to the health of our republican democracy, James Madison University has established The Madison Vision Series: Contemporary Issues in an Engaged Society. The new series will bring scholars, thinkers and leaders to campus for lively explorations of issues facing our contemporary society.
Sponsored by the Office of the President and Outreach and Engagement's Madison Institutes, the series will open on Constitution Day, Sept. 17, when constitutional law expert Dr. A.E. Dick Howard presents a free public address, "James Madison's Long Shadow: What Have Other Nations Gleaned from the American Constitutional Experience?" Howard's presentation begins at 4:30 p.m. in the Concert Hall of the Forbes Center for the Performing Arts.
Howard is the White Burkett Miller Professor of Law and Public Affairs at the University of Virginia. A native Virginian, Howard was born in Richmond and graduated from the University of Richmond. He was a Rhodes Scholar at Oxford University, where he read philosophy, politics and economics. After graduating from law school at the University of Virginia, he was a law clerk to Justice Hugo L. Black of the Supreme Court of the United States. He holds an honorary Doctor of Laws degree from JMU, an award he received in 1983 during the university's 75th anniversary celebration.
Howard was executive director of the commission that wrote Virginia's current constitution and directed the successful referendum campaign for its ratification. He served as chairman of Virginia's Commission on the Bicentennial of the United States Constitution. His widely acknowledged expertise has resulted in many consultations with constitutional draftsmen in other states and abroad. Howard has worked with revisers at work on new constitutions in Brazil, Hong Kong, the Philippines, Hungary, Czechoslovakia, Poland, Romania, Russia, Albania, Malawi and South Africa.
Also on Constitution Day, from 10 a.m. to 2 p.m., pocket-sized copies of the U.S. Constitution will be distributed to the public and cake will be served on The Commons.
On Saturday, Sept. 21, JMU will sponsor a trip to Montpelier, the Orange County estate of President James Madison, the father of the U.S. Constitution, for 60 JMU students. They will tour Montpelier and the grounds, enjoy performances by the 485-member JMU Marching Royal Dukes and the United States Navy Band Commodores, and participate in the day's festival.
For more information about Constitution Day at JMU, check http://www.jmu.edu/constitutionday/index.shtml.
# # #
 Sept. 11, 2013