Being the Change
Firing up the ratings
---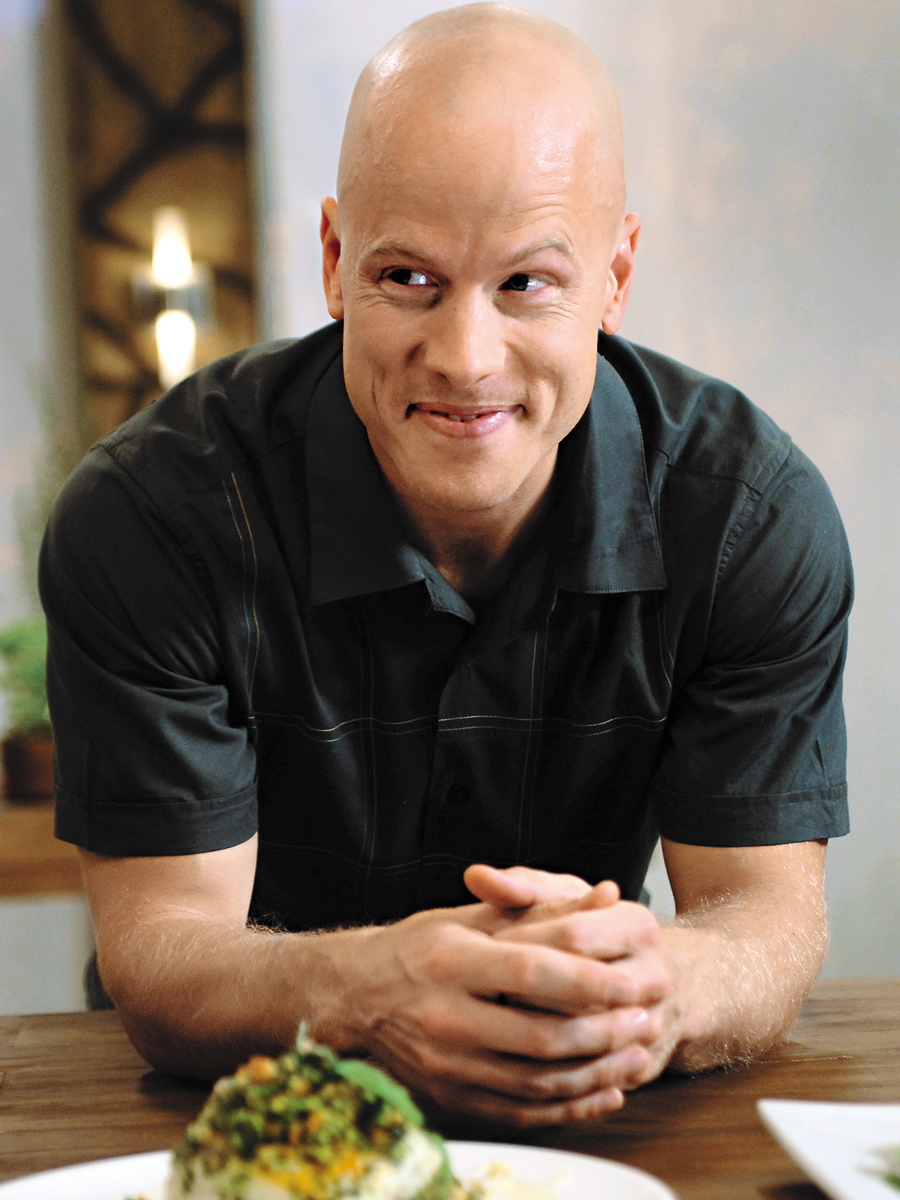 Nathan Lyon ('94) competes on the Food Network
By Hali Chiet ('07)
Move over Emeril Lagasse, Rachael Ray and Bobby Flay -- make room for Nathan Lyon ('94). The JMU alumnus, who graduated with a degree in health sciences, competed on the second season of the TV series
The Next Food Network Star.
One of four finalists
The show ended with Lyon making the top four. But, there is a chance fans will be able to watch Lyon in action. "I've received offers to possibly host my own show on PBS and another fledgling network, but I am under contract with the Food Network for two years," he says. Lyon will be flying to New York to pitch his "slightly tweaked idea" to the network. "I'm hoping one of two things will happen. First, they love the idea and decide to sign me; second, they release me from my contract to pursue other possibilities. I would prefer to remain true to the Food Network, but we shall see."
Lyon found out about the show while searching for a definition of a spice. "I Googled it and found a recipe on the Food Network, so I went to the Web site and found the ad for the show." With his interest sparked, Lyon sent in an audition tape.
The network was impressed by his skill, charisma and passion for cooking. Lyon says he learned "the influence and power of food over people" when he was only 8 years old as he prepared cherries jubilee for his parents and their friends. "I remember heating up the cherries and adding the brandy, and it was this strange magical moment. It was like a scene from a movie, where you see the a edge of the pan and a close-up of the kid's face with the flames lighting his eyes." Throughout his childhood, Lyon continued to help out in the kitchen. "I would start dinner when my parents were running late from work. I never saw it as a chore."
Madison and beyond
After high school, Lyon attended Old Dominion University before transferring to JMU. Growing up in Arlington and having a grandma that owned a farm near the university, Lyon often visited Madison. "I think JMU is like the most loving womb of universities. It has this incredible sense of community." Lyon says he never took for granted everything JMU had to offer. "The university was a catalyst for me to evolve as an individual."
"The university was a catalyst for me to evolve as an individual."
Once he graduated from Madison, Lyon moved to Vail, Colo., for six months and worked two jobs. With an itch to travel, he saved up enough money to purchase hiking gear and a one-way ticket to Europe. For the next six months, Lyon backpacked throughout Europe.
Cultivating the culinary calling
When he returned to the states, Lyon worked in the Washington, D.C., area as a waiter and bartender before heading to Los Angeles. He landed a job at the House of Blues club on Sunset Strip. "It was there that I met some really amazing people and talented chefs," he says. Lyon decided to further his culinary knowledge and attended the California School of Culinary Arts, an affiliate of Le Cordon Bleu. Once he completed his culinary education, Lyon worked at Lucques with Suzanne Goin, who was voted by Food & Wine magazine as one of the "Best New Chefs of 1999."
"My participation in the show has reinforced the idea that this is my calling."
With all of these culinary experiences under his belt, Lyon wanted to use his skills in a different context, so he applied for a spot on The Next Food Network Star. Although being on the show was rather stressful, Lyon feels fortunate to have had the learning experience and to have met the other finalists. "You have no idea how much love we had for each other," he says. "After all is said and done, we weren't competing against one another -- we were competing against ourselves."
Throughout it all, Lyon says his family has been very supportive. "My family said, 'Go for it because it's yours to take.'" Despite the show's turnout, Lyon continues to have a positive attitude towards achieving his dream. "My participation in the show has reinforced the idea that this is my calling."
Published: Saturday, December 1, 2012
Last Updated: Tuesday, April 17, 2018