News
Found in translation
---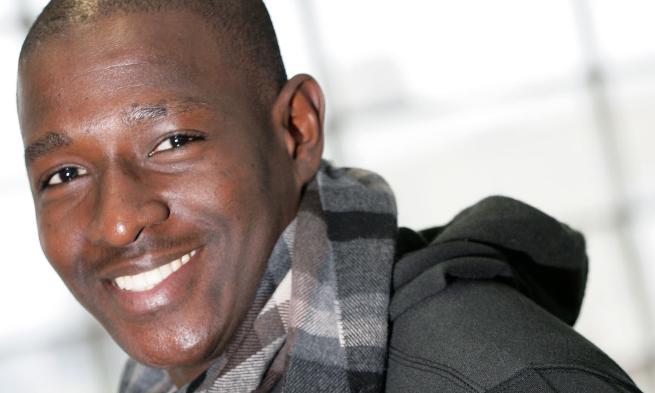 Oumar Sacko discovered James Madison University while preparing for his college board examinations at a French school in his native Mali. His brother, an engineering student at Virginia Tech, had heard good things about JMU, and Harrisonburg was only a few hours' drive from their uncle's home in Maryland.
But Sacko knew he would have to improve his English skills if he wanted to pursue his dream of going on to medical school in the United States and becoming a doctor.
"My English wasn't so good then," admits Sacko, 20, who also speaks French and Bambara, a Malian tongue. "I used to watch a lot of movies, so I knew American humor. But when I got here, I didn't always understand the conversation. I would just nod my head a lot."
In August 2010, Sacko enrolled in JMU's International Study Center, a transitional program for foreign students who meet the qualifications for admission to JMU but are not yet proficient in English.
The center is open to incoming international students for two to four semesters, depending on their level of proficiency. Students complete the equivalent of a full year of freshman coursework, and ISC graduates matriculate into JMU as sophomores. The program has a 95 percent progression rate.
ISC is the result of a partnership between JMU and Study Group, a global specialist in preparing international students for higher education. ISC, now in its fourth year, is housed in Memorial Hall and combines coursework with study skills, cultural integration and English language training to help fully prepare international students for degree-level study.
"It's perceived when international students study English only that they're losing a year of study," says ISC director Adam Copeland. "So this hybrid model is a way to meet market demand … and to give these students a soft landing to transition them into the university."
Copeland says in addition to having to overcome culture shock, foreign students face many of the same challenges as their American counterparts, including time management, roommate issues and scheduling.
"The first two months here were definitely the hardest, but after I met some people, it was easier," Sacko says. "It's always good to start with other international students because they know what you're going through. Also, the teachers would speak slowly to us and make us do activities to improve our English. I've worked really hard."
Sacko, now a junior majoring in biology, carries a 3.7 grade point average. He plans to graduate next year and go on to medical school to become a pediatrician or a cardiologist. In his spare time at JMU, he likes to play basketball and soccer, and is involved in the campus chapter of the American Medical Student Association and JMU's African Student Organization. He also writes a blog for the ISC about his experiences as an international student.
"My first impression was that people here are always in a rush," he says. "They're also more independent. In Africa, the pace is slower and it's more community-focused."
JMU was one of the first American universities to contract with Study Group in the fall of 2009. The partnership has helped extend the university's global reach and brought a level of diversity to campus not seen previously.
"Obviously, not every student at JMU can study abroad, so we're bringing the world to JMU as a way to help ensure that students here on campus have some connection with the world that they're going to be business partners with," says Delores Blough, director of international student and scholar services.
Currently, there are 477 international students at JMU, and that figure has more than doubled since 2005. Meanwhile, ISC membership has grown from 32 students in the fall of 2010 to 108 today.
Sacko says he benefited greatly from Study Group, but students must take the program seriously. "Some international students might not put forth as much effort because they feel like the teacher will understand. But if you do that, later on when you matriculate into JMU, it's going to be a lot harder."
At an ISC event last month, 25 students from China, Japan, Kyrgyzstan, Russia, Ukraine, Saudi Arabia and Vietnam presented their portfolios as part of the matriculation process. Like many of their fellow Dukes, they spoke positively of their experiences at JMU and their plans for the future, which included enrolling in Harvard Medical School, opening a restaurant in New York City and designing video games for Ubisoft.
Copeland says he hopes to recruit more international students to the program in the future and to work across departments at JMU to provide more and better resources. 
###
By James Heffernan ('96), JMU Public Affairs
Dec. 13, 2012
Published: Thursday, December 13, 2012
Last Updated: Tuesday, April 17, 2018