Being the Change
The Five E's of health
---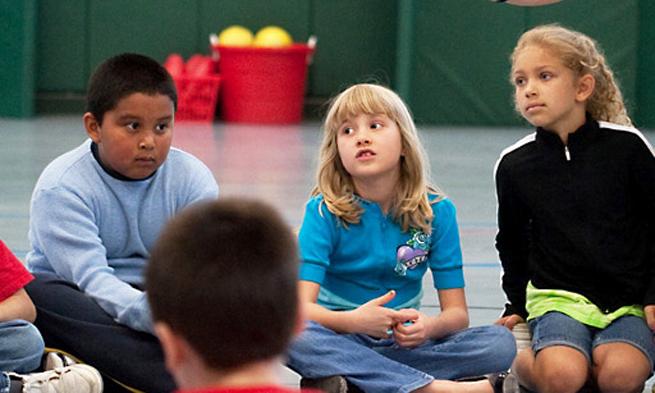 Pediatric dietitian Dana Casendino ('06) offers guidelines for parents to help improve their children's health
By Hali Chiet ('07)
Editor's note: "American society has become 'obesogenic,' characterized by environments that promote increased food intake, nonhealthful foods, and physical inactivity" — that's the warning from the Centers for Disease Control and Prevention. It's no surprise that losing weight and getting fit are among the top New Year's resolutions. The challenge of sticking to those resolutions is hard enough for adults, harder still for children who lack the autonomy to create a healthy environment on their own. How do we keep our good resolve from melting away under the pressure of an obesogenic society?
JMU alum and pediatric dietitian Dana Casendino ('06) recommends the power of good nutrition. Her work in pediatrics, epilepsy monitoring, weight management and renal disease has had a positive impact on the health of her patients. She's convinced that today's childhood obesity epidemic can be slowed down.
1: Environment
Want to lead children on a path to being healthy adults? Pediatric dietitian Dana Casendino ('06) combines nutrition and education to help parents improve kids' health. She tells parents to focus on the "Five E's" of health:
Set children up for success, not failure! Make sure the house is filled with fresh foods to provide kids with the energy they need to get through their busy days. We cannot expect children to make good decisions if they are only surrounded by quick fixes. I always encourage parents to invite their children to join them on the next trip to the grocery store so they can help pick out some new and exciting healthy foods.
2: Education
Don't preach to children, teach them. Unfortunately many elementary and middle schools are lacking nutrition education so parents have to play a bigger role in teaching their children the right things to eat. Pick a new color of fresh food to focus on every week, read food labels or whip up a new recipe together. This will not only provide you with some quality time with your kids, but it will also provide them with the tools to make the right decisions in the future.
3: Example
As much as they may deny it, sometimes kids are their parents' No. 1 fans. It's unfair to expect certain behavior from our children that we do not expect from ourselves. Lead by example and you will get the best followers.
4: Exercise
Emphasize that eating healthfully is only half the battle. Exercise and eating right go hand in hand for good health. Make physical activity fun for both you and your children by participating in a variety of family-oriented activities such as bicycling, soccer, swimming or relay races.
5: Esteem
Emphasize that staying active and eating for health is not about looking good; it is about feeling good and appreciating our bodies and minds. Feeling good comes from treating ourselves well — and being happy with the outside will start by how we treat t
Published: Saturday, December 1, 2012
Last Updated: Tuesday, February 27, 2018