News
JMU a top Fulbright producer
---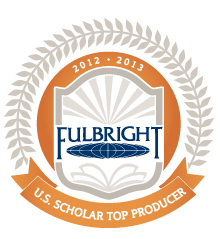 James Madison University is one of this year's top producers of U.S. Fulbright Scholars.
With two Fulbright professors in 2012-13, JMU made the list of top-producing master's institutions as highlighted in the Oct. 29 online edition of the Chronicle of Higher Education.
Dr. Anthony Tongen, associate professor of mathematics and statistics, is currently teaching a course on numerical algorithms at the University of Colima in Mexico and researching the dengue virus, a mosquito-borne illness that is the leading cause of death in the tropics and subtropics. Sang Yoon, professor of art, design and art history and a two-time Fulbright award winner, will teach graphic design at Kyung Hee University in her native South Korea in the spring semester.
In addition to Tongen and Yoon, Madison counts 19 former Fulbright faculty members among its ranks.
"JMU's recognition as a top-producing Fulbright institution illustrates the stellar talent of our faculty and relevancy of our work to the broader global community," said Edward Brantmeier, assistant director of JMU's Center for Faculty Innovation, Fulbright Scholar Program campus representative, and himself a 2009 Fulbright-Nehru scholar in India.
"In essence, JMU faculty are 'being the change' through the highly competitive Fulbright Program — a program that aims to promote a little more mutual understanding and peace in our world via citizen diplomacy," Brantmeier said. 
###
Dec. 14, 2012
http://www.cies.org/chronicle/
Published: Friday, December 14, 2012
Last Updated: Friday, February 16, 2018