Nearly 800 anticipate graduation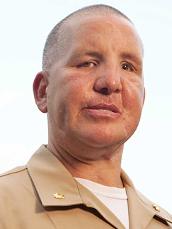 Justin Constantine
Approximately 782 James Madison University students will become alumni on Saturday, Dec. 15, during commencement exercises in the JMU Convocation Center. Undergraduate and graduate students will be honored at the ceremony.
A total of 648 undergraduate, 127 master's, three educational specialist and four doctoral students will officially earn degrees during the 10 a.m. ceremony. Doors open at 8 a.m.
Lt. Col. (select) Justin Constantine, an Iraq war veteran and JMU alumnus will be the commencement speaker. Constantine, a 1992 graduate, earned himself a Purple Heart after surviving a serious injury in a sniper attack while serving in the U.S. Marine Corps Reserves. He is currently an active member in the Department of Defense Recovering Warrior Task Force.
# # #
Dec. 13, 2012