Science and Technology
JMU Outreach program gives high school students taste of college work
---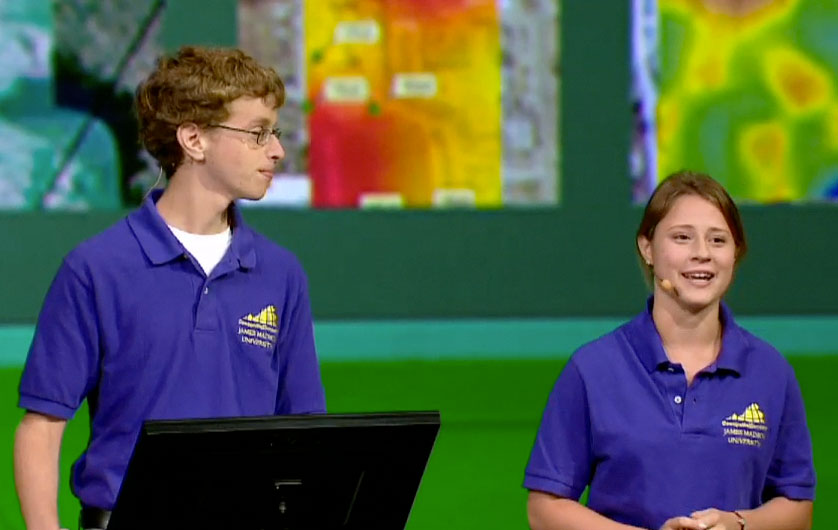 Getting to school early to count cars, and then staying after school to do the same thing may sound like an odd way to prepare for college or a career, but Alicia Pettis can attest to its merits.
Of course, there was a bit more involved than just counting cars as they arrived or left her Fairfax County high school. Pettis, now a junior sociology major at JMU, worked with a classmate to put those numbers into a computer mapping program and then did a presentation on the best times to avoid traffic when getting to or leaving the school.
Seniors at other high schools around Virginia have performed similar research over the past eight years in a class called the Geospatial Semester, a partnership between high schools in Virginia and the department of integrated science and technology at JMU. Their projects have included examining urban growth patterns, identifying wetlands and developing a community evacuation plan.
"It was a great class to take since it had an independent element to it," said Pettis, who is also the vice president of SGA at JMU. "While in some high school courses, the teacher walks students through every step of a project, this class allowed the students to be more hands on and solve problems themselves."
Giving high school seniors an experience similar to what they will face in college or on a job is one of the goals of the program, said Dr. Bob Kolvoord, who started the Geospatial Semester in 2005 with help from Northern Virginia high school teacher Kathryn Keranen.
"We're moving out of the high school standardized test mode and into a more open-ended, project-based, develop-more-responsibilities-for-your-own-learning kind of situation so that when they get either into work or they get here or elsewhere in higher ed, they've got a step up," said Kolvoord, interim dean of JMU's College of Integrated Science and Engineering.
Added Paul Rittenhouse, an adjunct ISAT professor who coordinates the Geospatial Semester program, "I think it grounds them a little bit more. I think it makes college education a little bit more tangible."
Students from Washington-Lee High School in Arlington provided Kolvoord a thrill last summer when they were invited to present their projects at an annual ESRI users conference in San Diego. ESRI makes the ArcGIS software used by students in the Geospatial Semester and is an avid proponent of the Geospatial Semester and geospatial learning around the world.
"These are high school students in front of 16,000 people and they nailed it.  I was in the second row and it was just fun to watch," Kolvoord said. "Our kids were integrated in the morning with the people showing the new technology and as you see their presentation, the point is, 'Look, these kids are doing what you're doing and they're able to do what you do. Watch out.'"
This year, 18 schools are offering the class, including several in the central Shenandoah Valley. " I think we could probably grow a little bit more without additional help," said Kolvoord, who has "driven tens of thousands of miles" supporting it over the years.
Kolvoord, Keranen and Rittenhouse, who also teaches the Geospatial Semester class at Western Albemarle High School, visit participating schools throughout the school year and help teachers design the class to meet their needs. "We have a set of learning outcomes and then we work to help the teachers find the best way for them to sculpt their curriculum to achieve that," Kolvoord said. "A big role for us in this is consulting and advising. I often refer to this as mentored dual enrollment." 
Students taking the class earn credit that counts at JMU and other colleges. "When I learned that I could earn credit and have the grade transfer if I went to JMU, I was sold," said Pettis.
With a successful model in place, Kolvoord would like to see the program grow in Virginia and around the country. For that to happen, other colleges and universities will have to work with high schools in their areas. Kolvoord has had discussions with other institutions, but none are ready to launch the program.
Rittenhouse said one challenge to growing the program is getting high schools to understand it. "Sometimes you make the pitch and they're not really sure what the pitch is for. Washington-Lee, Page and Colonial Heights help us. They put these projects together that are realistic, scalable. You can go say, 'Hey, this is what your counterparts are doing.' It might resonate a little bit better for them."
While the program pays for itself through the tuition, Kolvoord said there are opportunities for donors. Students taking the class are required to pay a discounted JMU tuition, but the cost is still too much for some. Donations could be used for scholarships as well as for funding small prizes Kolvoord awards each year.
Related links:
Published: Thursday, December 13, 2012
Last Updated: Thursday, October 20, 2016