Being the Change
A Time of Caring
---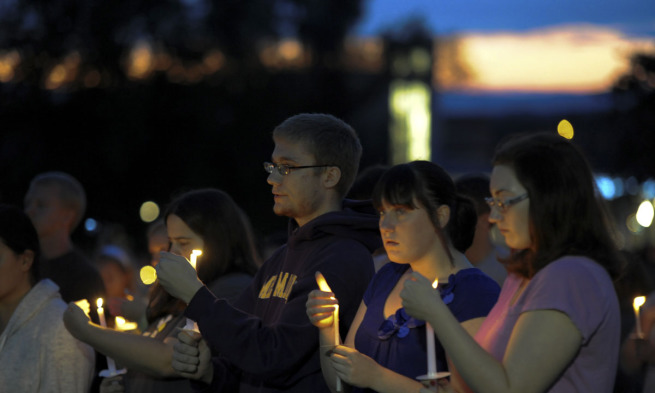 "He, I feel, is lost and probably not to be found." JMU President Linwood Rose received that message shortly after the terrorist attack on the World Trade Center and Pentagon on Sept. 11, 2001. It was from the wife of his friend and Madison alumnus Bruce Simmons ('83) who worked in one of the Twin Towers. So much was lost that day: family members, friends, a sense of security. Yet, we can find our best selves in times of tragedy as evidenced by the ways the Madison community responded in the hours and days following the attack. In a time of evil, people found the way to "Be the Change" by choosing goodness.
Sept. 11, 2001
At the instigation of junior Rob Rixmann and senior Jeff Nicholson, students gathered on The Commons Tuesday evening for a vigil following the terrorist attack on the World Trade Center and Pentagon earlier in the day. The crowd grew to 2,000 by word of mouth and a few posters. They shared testimonies and sang to help others cope with the tragedy. "Two hours later they were still talking outside D-Hall," said Father John Grace, head of Campus Interfaith Ministries.
Sept. 14, 2001
The Wilson Hall bells tolled for the lost and grieving at noon on Friday, as thousands of professors, students and staff members assembled quietly on the Quad for a moment of reflection and then disbursed just as quietly.
Sept. 15, 2001
On Saturday at the Convocation Center, 800 students turned out to donate blood, and many had to be turned away. "I'm giving [blood] today since I can't be there [in New York City] digging through the wreckage with the rescue teams," said Amy Leidheiser ('02) of Richmond. "This is my way of helping the families of the victims, my way of contributing as an American." Harrisonburg resident Raven Pitsenbarger added: "There was a call for nursing assistants and I wanted to go, but people filled the positions in only five hours. I guess that just goes to show how dedicated people are to helping out, even if they aren't living right next door."
Sept. 18, 2001
SGA President David Mills, JMU President Linwood H. Rose and Coordinator of Interfaith Campus Ministries John Grace joined the JMU community on Sunday at the Convocation Center in "A Time of Caring," "I've heard numerous reports of faculty who set aside their lectures and instead focused on the needs of anxious, at times angry and unsure, students," he said. "I've witnessed counselors and psychologies who dropped their normal work responsibilities and channeled their expertise and their energy to the service of others. I've seen students consoling other students, worried about the safety of their loved ones." Father John Grace then spoke about the human bond that connected JMU to the tragedy. " I think all of us were overwhelmed, not just about our own personal relationships, but about all those other human beings out there who slowly but surely we were calling brothers and sisters. Suddenly we foresaw in the faces of strangers our own faces. They are our own."
MetroDukes have been honoring Craig Blass ('96) one of the JMU alumni killed on Sept. 11, 2001, with an annual scholarship and golf fundraiser. Blass graduated from JMU with a finance degree and a great deal of ambition. He returned to New York to pursue his dream as a Stock Trader at Cantor Fitzgerald in the World Trade Center. He was enjoying a successful career when his life was tragically cut short by the events of September 11. For additional details on the tournament and the scholarship, click here or follow their page on Facebook at https://www.facebook.com/craigblass.
Published: Tuesday, September 11, 2012
Last Updated: Wednesday, January 16, 2019