Being the Change
Dualities
---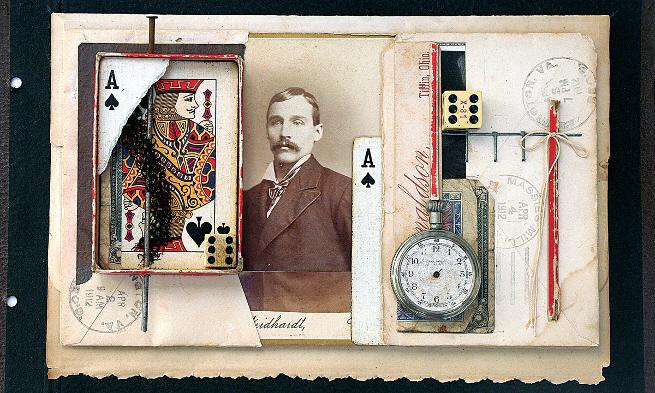 By Michelle Hite ('88)

Rosan, who was a collage artist for 20 years before returning to teaching, directs the visual art talented and gifted program in the Northern Neck area of Virginia. She also teaches elementary art in Madison County. Currently, her original art pieces are focused mostly on jewelry and printmaking. This year, Robert celebrates 31 years of teaching art at Colonial Beach High School. Arts and Activities Magazine has published his entire eighth-grade art curriculum. Rosan and Robert's list of art awards and accolades is as long as their love for each other. They celebrate their 34th wedding anniversary in August.They both graduated from Madison with a B.S. in art; they both create original art; they are both art educators; and well, they married each other while they were students at Madison. Rosan Tomaino Hunter ('76) and Robert S. Hunter ('74, '76M) enjoy the duality of both making and teaching art. 
When contemplating the duality of creating and teaching art, Robert focuses on the rewards. "Empowering students to believe in their own abilities to create and appreciate art in tandem with producing my own artwork provides a sense of satisfaction and achievement that could never be equaled. I consider myself very lucky." 
Both Rosan and Robert provide an artist statement — also full of dualities.
Rosan T. Hunter ('76) — "Throughout my life I've been a collector of materials having storied histories. Each bit of lace or faded photograph, and every unique bead or button has had a former life. I listen for whispers of the past as I combine materials in my collage process. My best pieces are those that combine materials so each enhances the other in a new and unexpected way. Memories reside in my work and hopefully they resonate with the viewer to create an image containing many layers of aesthetic appreciation." 
Robert S. Hunter ('74, '76M) — "In my work I invite comparisons of people, places and things in richly textured dynamic compositions. My selection of subject matter comes from current cultural artifacts of absorbed myths, stories and icons, which have personal significance. By contrasting both plastic elements and figurative ones, I invite the viewer to consider the interaction of my choices and react to the visual reality that I have created. I hope that my reinterpretation of sometimes familiar sources will provide a new appreciation of their expressive power."
Published: Saturday, September 1, 2012
Last Updated: Tuesday, February 27, 2018