News
International Week 2012 kickoff
---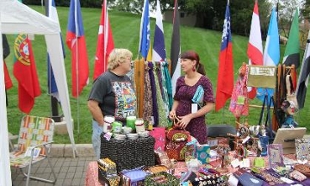 International Week 2012 at James Madison University has a distinctly Latin flavor.
This year's theme, "25 Degrees: A Carnival of Cultures," focuses on the region between 32 degrees and 7 degrees on the meridian line, encompassing the countries of Mexico, Central America and the Caribbean.
Opening festivities will take place Sept. 24 from 11 a.m. to 3 p.m. with an international bazaar on The Commons featuring regional cuisine, street vendors and a performance at noon from the Paix Bouche Jing Ping Band from Dominica. Jing Ping is a kind of folk music that originated on slave plantations in the Caribbean. It features the accordion, drums and other instruments indigenous to the region and is often accompanied by a circle dance.
JMU faculty members have been leading student trips to Dominica since 1999, and in 2005 the social work and anthropology departments formalized Alternative Spring Break programs to the island country. Anthropology students visit in even years under the direction of Dr. Amy Paugh, while Dr. Karen Ford leads a group of social work students there during odd years.
Ford said the Paix Bouche Jing Ping Band's visit to JMU grew out of her group's 2011 trip. "They open their homes and their country to us, so we wanted to return the favor," Ford said. "It just seemed like the right thing to do."
At 4 p.m. in Taylor 405, the band will share stories and experiences and take questions about the Dominican culture.
Other events slated for I-Week include a performance from Nina Yhared, an internationally renowned artist based in Mexico City; a presentation by Alex de Sherbinin of Columbia University's NASA Socioeconomic Data and Applications Center on the effects of climate change on displacement and migration of the people of Central America and the Caribbean; a discussion of Caribbean feminist criticism led by Dr. Sheryl Gifford, who teaches Caribbean literature at Florida Atlantic University; a public debate featuring the JMU Debate Society; a study abroad fair; a photo contest; a salsa dance; a performance from JMU's Steel Band; and a world cup soccer tournament. A complete schedule of events, with dates, times and locations, can be found here.
Mexico, Central America and the Caribbean is a region of cultural and ethnic diversity that has made numerous contributions to the world in the areas of literature, the arts, scholarship, the economy and athletics, said Dr. Chris Blake, professor and head of the political science department at JMU and co-director of the annual summer study abroad program in Argentina.
In the United States, Latin America's influence can be felt both directly and indirectly through the country's large Hispanic population, Blake said. "The fact that a considerable number of Latin Americans have settled in the U.S. means that, in our time, a lot of that cultural heritage and diversity has reached us at the ground level through the immigrant population and the children of those first-generation immigrants. We can see that in music, in food and in expressions that make their way into our language."
One of the primary values that binds the people of the region together is family, Blake said. "The notion of extended family, one that crosses more than just two generations and includes many branches of a family tree, is an important value to be cherished and preserved and lived." Other common characteristics include language — the region is predominantly Spanish-speaking — and the Roman Catholic faith tradition.
In addition to the summer program in Argentina, JMU offers study abroad programs in Brazil, Costa Rica, Peru and Venezuela as well as an Alternative Spring Break program focused on the geology and ecology of the Bahamas. The political science department also offers a minor in Latin American and Caribbean Studies.
Also this week, the Latino Student Alliance will present Hispanic Heritage Week at JMU, with free events scheduled throughout the week, and the Harrisonburg International Festival will be held Sept. 29 from noon to 6 p.m. at Hillandale Park. 
### 
Sept. 24, 2012
Published: Monday, September 24, 2012
Last Updated: Tuesday, April 17, 2018