Being the Change
Under the wing
---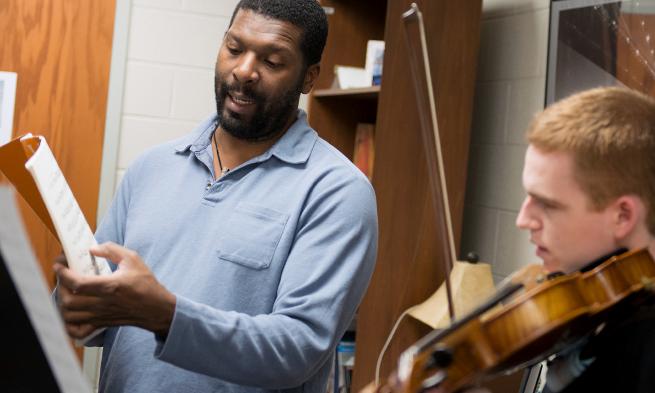 Professor, conductor and violist Amadi Azikiwe talks about mentoring, the Harlem Symphony Orchestra and JMU
An interview with Madison magazine

For as long as I can remember. My mother, uncle and birth father are all musicians. My mother is a professional pianist who is a graduate of The Juilliard School in New York City. My uncle was a violinist, who graduated from the New England Conservatory in Boston, where I also later went to school.You've been a musician your whole life, right?
Benefiting from mentors
How important was being mentored at a young age?
When you work alongside a professional as a student, you gain the experience of preparing a piece professionally without the wear and tear of years of experience. You become more of a professional in the eyes of your peers, whom the process also benefits.
When I was 13, my youth orchestra played side by side with members of the Winston-Salem Symphony. Starting at age 14, I attended the Waterloo Music Festival in New Jersey, conducted by Gerard Schwartz with members and students from the New York Philharmonic, Metropolitan Opera Orchestra, faculty from The Juilliard School and Manhattan School of Music. It was there that I first heard artists like Itzhak Perlman, Janos Starker, Andre Watts, all of whom were soloists with the orchestra I was in.
The late violist, Sol Greitzer, former principal violist of the New York Philharmonic, was a faculty member at the festival. He, along with his wife took a special interest in my progress, coaching my chamber ensembles, and at one point, loaning me a very fine viola owned by the Philharmonic. I consider them both to be among my most influential mentors.
And now you are doing the same thing with JMU students, both inside and outside music.
Yes. A few years ago, I founded the Harlem Symphony Orchestra; and since then, I have invited two JMU students with me to perform alongside the professionals. Outside the music school, here on JMU's campus, I am one of four Faculty-in-Residence, which means I live in Eagle Hall, a freshman residence hall, where I host student events, eat meals with students 
Building the Harlem Symphony Orchestra
Tell us about the Harlem Symphony Orchestra.
When I was 8 years old, my mother was the soloist for the one and only concert of the National Afro-American Philharmonic Orchestra. In 1993, she founded the Gateway Music Festival in Winston-Salem, N.C., to highlight the historical contributions and visibility of orchestral musicians of African descent.
In 2001, after I joined the festival's board of directors, I started thinking about increasing the frequency of the festival. What says black America more than Harlem? So, it has to be the Harlem Symphony Orchestra. I shopped around the idea. Eventually, we became a 501c3 organization, and the Apollo Theater invited us to come perform. After that performance, they invited us back.
Gaining professional experience
How do you get students from JMU involved in the orchestra?
For our 2004 performance, I asked a JMU cello player to join us. Two other times, I have invited percussionists. I want to give them an opportunity to perform in a professional setting. Success in classical music depends on professional experience. It's rare to be hired right out of college for a professional orchestra. The professional experience helps.
What kinds of things do the students experience that they wouldn't on campus?
At the Harlem Symphony Orchestra, we prepare our program in four days. We have four rehearsals. Of course, they get the music ahead of time, and everybody must be prepared before they get there. I expect a lot of them, and I expect it quickly. It's very high powered. I hope they come out with a sense of accomplishment, that now they know they can do this.
At home with students
You're not just mentoring music students, though. You also live among students, don't you?
Yes. I live in Eagle Hall, an eight-story building of all freshmen. It is a way for me to be social with students so they know they can approach their teachers. They can then imagine that any of their other teachers might also like movies, play pool, swim, eat a late night snack, take out the garbage, etc.
How do you connect with the students in Eagle?
Just by being here. I saw a student studying for a World War II test once, and I'm kind of a history buff, so I reviewed with her. Something like that isn't required of me, but I think it was helpful. I also talk to them about their musical interests or find common interests. Sometimes, I have played concerts here in Eagle, along with my colleagues from the School of Music; and the students always ask when I'm doing it again.
I know the processes of what to do, for instance, if you had roommate problems or some other issue. I've become adept at conversing with students about their interests, why they came to JMU, how they're liking it.
Sounds like you really believe in coming alongside students to help them succeed.
To take a student under your wing is important. That's been true in my life, and I live that here.
Published: Wednesday, February 1, 2012
Last Updated: Tuesday, February 27, 2018