News
JMU Identified as 'Best Value' College by Princeton Review
---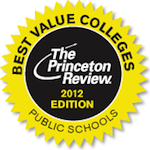 James Madison University's "impressive balance of educational, social and extracurricular activities to enrich students' experience" earned the school a place in the Princeton Review's "The Best Value Colleges: 2012 Edition," subtitled "The 150 Best Buy Colleges and What It Takes to Get In."
The annual guide features profiles of 75 public and 75 private colleges with detailed information about their campus culture, facilities and financial aid offerings. Of the 75 schools in each group, the top 10 colleges are ranked 1 to 10, and the remaining 65 are listed in alphabetical order and unranked.
"Both students and professors alike contribute to the feeling of community on campus. Students love the 'positive, enriching and supportive learning environment,'" wrote editors at the Princeton Review in the JMU profile. "The greatest strength of the school is the ability to get any sort of assistance when needed," one JMU student surveyed said.
The Princeton Review selected its "Best Value Colleges" schools based on institutional data and student opinion surveys collected from 650 colleges and universities the company regards as the nation's academically best undergraduate institutions. The selection process analyzed more than 30 data points broadly covering academics, cost and financial aid. Cost and financial aid data came from the company's fall 2011 surveys of school administrators. Data on academics came from its fall 2010 through fall 2011 surveys of school administrators. Data from students attending the schools over these years included their assessments of their professors and their satisfaction with their financial aid awards.
JMU was listed in the Princeton Review's "Best Value Colleges" guides in 2009, 2010 and 2011.
# # #
Feb. 7, 2012
Published: Tuesday, February 7, 2012
Last Updated: Thursday, October 20, 2016