News
AXIS Residency at JMU Focuses on DisABILITY in Dance
---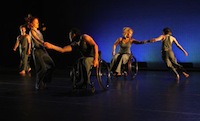 The Forbes Center for the Performing Arts in cooperation with various constituencies at James Madison University will host AXIS Dance Company, one of the world's most acclaimed and innovative ensembles of performers with and without disabilities, for a five-day residency Jan. 17-21.
During its residency, AXIS will conduct master classes for JMU students and interactive dance workshops for area youth. The company culminates its activities with a breathtaking performance on Saturday, Jan. 21, at 8 p.m. in the Mainstage Theatre of the Forbes Center.
The performance will include "Full of Words" by Marc Brew and "Light Shelter" by David Dorfman, which features an 11-person cast of community members with and without disabilities. This community cast will audition during the first day of AXIS' residency and perform on stage with the company members four days later.
JMU dance Professor Kate Trammell is working with AXIS to organize the audition/workshop. "I'm hoping we can recruit as diverse a cast as possible – faculty, staff, students, community members, people of all ages, backgrounds and abilities. It's an amazing opportunity, a chance to step into new territory under the guidance of people who really 'wrote the book' on integrated performance."
Founded in 1987, AXIS has become a jewel of contemporary dance and disability culture. The group has paved the way for a powerful contemporary dance form – physically integrated dance – performing across the world and in more than 60 cities nationwide. This past summer, AXIS was featured on Fox TV's Emmy-nominated "So You Think You Can Dance."
The performance contains mature content. Tickets are $33-36 and $18 for JMU students. For tickets, call the Forbes Center Box Office at (540) 568-7000 or visit www.jmu.edu/JMUarts. Residency events open to the press are noted below. Photography and videography are permitted unless otherwise noted.
Tuesday, Jan. 17 – 2-3 p.m.
"Representing Disabilities" AXIS Classroom Visit/Workshop
Roop Hall, Room 208
Interviews available with JMU students and AXIS company members before and after class; interviews available with David Ehrenpreis, director of JMU's Institute for Visual Studies during classAXIS Dance Company will visit the Institute for Visual Studies Spring 2012 course (co-taught by Melissa Aleman and Bill Thompson) to help students understand the culture of the dance company, the messages and meanings they are attempting to create for audiences, and the implications of their work for other representations of disability. The students will then attend the AXIS performance to examine dance and movement as one form of visual media for constructing representations of disability.
Wednesday, Jan. 18 – 1:25-2:55 p.m.
AXIS master class in physically integrated dance for JMU School of Theatre and Dance and Adapted Physical Education students
Forbes Center, Room 1270
Wednesday, Jan. 18 – 4-5 p.m.
Creative Movement Class
Forbes Center, Room 1270
AXIS/Project CLIMB Dance Workshop
Taught to children ages 6-12 with and without disabilities by AXIS company members with assistance from JMU studentsThis dance workshop for area youth with disabilities is a collaborative effort between AXIS and Project CLIMB (Children Learning to Improve Movement Behaviors), directed by Dr. Thomas Moran of JMU's Department of Kinesiology. This class is taught by AXIS company members with assistance from JMU students in Dance in Community (DANC 325), Adapted Physical Education (KIN 313) and selected courses in Occupational Therapy.
Thursday, Jan. 19 – 1-3 p.m.
Interactive School Assembly
Stone Spring Elementary School, Harrisonburg
1-2 p.m., Program for second, third and fourth graders
2-3 p.m., Program for pre-kindergarten, kindergarten and first graders
Interactive School Assembly for Stone Spring Elementary School students, plus teaching staff and invited guests from special education departments at Smithland Elementary School, Skyline Middle School and Waterman Elementary School. AXIS dancers with and without disabilities perform innovative choreography that demonstrates how people with differences can work together. The demonstration includes interactive participation by students, plus candid discussion and a question-and-answer session with dancers.
Saturday, Jan. 21 – 2 p.m.
Dress rehearsal
Forbes Center, Mainstage Theatre
AXIS company members rehearse entire concert (including "Light Shelter" featuring community cast members) to invited guests from Woodrow Wilson Rehabilitation Center.
Saturday, Jan. 21 – 8 p.m.
AXIS performance
Forbes Center, Mainstage Theatre
Press tickets available; no photography or videography; photos provided upon request
For press tickets or for further information, contact Jen Kulju, public relations coordinator at the Forbes Center, at (540) 568-4394 or by e-mail at kuljuja@jmu.edu. You can also visit http://www.axisdance.org.
AXIS' residency at JMU is made possible through the partnership of JMU's Forbes Center for the Performing Arts Encore Series, School of Theatre and Dance and Office of Disability Services, with support from the New England Foundation for the Arts and the MetLife Foundation. JMU project partners include the Institute for Innovation in Health and Human Services, Institute for Visual Studies, Office of Equal Opportunity, Office of International Programs, Office of Diversity, Student Affairs and University Planning, Center for Multicultural Student Services, Office of Orientation, Community Service-Learning, Student Government Association, CISAT Diversity Council, and departments of Exceptional Education, Kinesiology and Health Sciences (Occupational Therapy). Community partners include Harrisonburg City Schools, Woodrow Wilson Rehabilitation Center and Valley Agency for Independent Living.
# # #
Jan. 9, 2012
Published: Monday, January 9, 2012
Last Updated: Thursday, October 20, 2016