Destination ImagiNation Team Continues Global Finals Success

By David Jordan ('13), JMU Public Affairs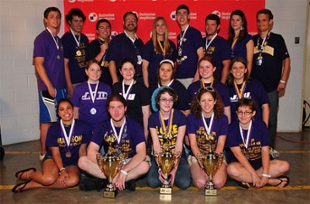 The JMU Destination ImagiNation Team earned two second place finishes and two third place finishes at the 2011 Global Finals.

Related Content:
Consistency is a term becoming synonymous with the James Madison University Destination ImagiNation Team.
Twenty-four JMU students traveled to the University of Tennessee in Knoxville, May 25-28, to compete in the 2011 Destination ImagiNation Global Finals, where they received high marks again this year. Of the five teams representing JMU, two received second place honors while two others received third place awards.
Destination ImagiNation, Inc. is a non-profit organization that reaches 100,000 college, high-school and middle-school students annually in the United States and in 30 other countries. DI teams create and perform skits about assigned topics in order to demonstrate their skills in creativity, teamwork and problem solving. During competition, teams also are judged on instant challenges, how they respond to subjects they are not told about ahead of time.
JMU offers Destination ImagiNation as a three-credit class. Enrollment can be found under both ISAT and engineering course numbers, and is open to any major as an elective. In the future, students may also have the option of counting the class as communication studies credits.
"The DI competition requires students to work through some very demanding critical thinking and problem solving assignments that strengthen our educational systems by enhancing the learning processes taking place in the classroom," Chuck Cadle, CEO of Destination ImagiNation, Inc., said on the DI website.
This year's Destination ImagiNation Global Competition attracted more than 8,000 competitors. One of the challenges, called "Spinning a Tale," required teams to explain an energy cycle in a three-act skit that could be performed in any order.
Other challenges involved moving critical materials to places in a city decimated by a disaster; telling the same story three different ways for three different audiences; and telling the story about a character that is foiled, in which teams also had to build a structure from aluminum foil, wood and glue that could hold heavy weights.
Published June 15, 2011