JMU's White to Study in South Korea
By James Heffernan, JMU Public Affairs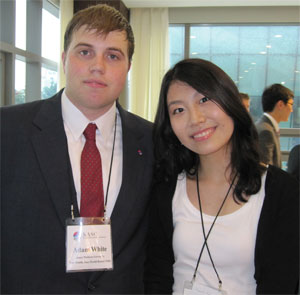 Adam White at the Korea America Student Conference in July.
Before arriving at James Madison University, 21-year-old Adam White of Richmond developed an appreciation for the Korean people and culture during his brief stay in a suburb of Seoul in early 2009. However, it wasn't until this past summer, as a participant in the Korea America Student Conference, that the sophomore international affairs major was awakened to the challenges facing North Korean refugees crossing the border into South Korea.
Now, thanks to JMU's membership in the International Network of Universities, White will have the chance to build upon his vision of helping this group of defectors assimilate into a free society.
In October, White was named the recipient of the 2011 Henry Fong Award, which recognizes an INU student for contributing to the network's theme of global citizenship. The award comes with a $2,000 stipend to study abroad at one of the consortium's 11 member universities. White plans to enroll at Kyung Hee University in South Korea in the fall of 2013 after a semester of teaching English in Japan.
As part of his application for the award, White wrote an essay reflecting on his experience with the INU Student Seminar at Hiroshima University in August. Initially, White was put on a waiting list for the weeklong program. "But my professor informed me that I was close and kept encouraging me," he said. In July, while at the student conference in South Korea, White received an email from JMU Director of Study Abroad Felix Wang informing him that an additional spot had opened up thanks to some last-minute funding. "It was a short flight from Seoul to Hiroshima," he said.
This year's INU Seminar theme, "The Responsibility to Protect," helped reinforce White's convictions about ethical obligations in an interconnected world and led him to outline a plan to increase the visibility of persecuted North Koreans and to provide English language training to North Korean refugees.
"Different peoples, cultures and belief systems are equally valuable parts of a greater human community," White wrote, "and it is the duty of each person and organization, regardless of background, to make choices that promote the welfare of this collective, diverse whole."
The ability to speak English is highly valued in South Korea, White said. "There's a huge expectation among South Koreans that these refugees become 'Korean.' The North Koreans live in a totally different society. It's much more closed, and the language is very different. So when they come to South Korea, they don't have the skills and the knowledge to allow them to succeed in what is a hypercompetitive environment." And the South Korean government's three-month orientation for refugees is not a lot of time to adjust, he said.
White said the ability to work with refugees "adds much more depth to your understanding of the situation" in Korea. One problem with public policy, he added, is that often the people making the policy don't have ground-level experience. "If you have worked at the ground level, you have the ability to understand what will and won't work. That trial-and-error process is reduced."
While at Kyung Hee University, White plans to study the Korean language and U.S.-Korean affairs, both skills the State Department has identified as critical to American interests. "I think it will open doors for me," he said.
###
Dec. 5, 2011