News
Newest JMU Grads Look to Dec. 17
---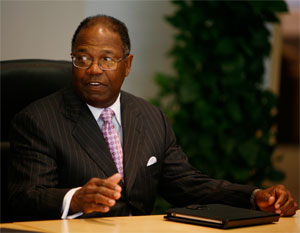 Wharton B. (Zie) Rivers Jr.
About 773 James Madison University students will make the transition to university alumni Saturday, Dec. 17, during commencement exercises in the JMU Convocation Center beginning at 10 a.m. 

A total of 621 undergraduate students and 152 graduate students – 147 master's, three educational specialists and two doctoral students – will receive degrees at the 10 a.m. program. 

Wharton B. (Zie) Rivers Jr., former vice rector of the university, retired Army officer and telecommunications executive, will address graduates and their guests. During his eight years of service on the JMU Board of Visitors (2003-11), Rivers also chaired the Education and Student Life and Athletics committees. 

Prior to his retirement, Rivers served as co-founder, president and CEO and vice chairman of TerreStar Networks Inc., an advanced mobile satellite services provider. Earlier, he was president of Cable and Wireless, North America, and Ameritech's Network Services Division. Rivers has also served as president and CEO of Advanced Radio Telecom and in a number of vice presidential roles at MCI Telecommunications Inc. 

A Vietnam combat veteran, Rivers held a number of command and staff positions concluding his service as a strategic policy specialist with the Joint Chiefs of Staff at the Pentagon. 

Rivers holds a bachelor of arts in history from Columbia College in Missouri and a master of arts in international relations from Boston University. He completed advanced graduate studies and research as a national security fellow at Harvard University's John F. Kennedy School of Government. 

A private pinning ceremony for 58 nursing program graduates and their guests will be held Friday, Dec. 16, as part of JMU's commencement tradition.
Published: Thursday, December 8, 2011
Last Updated: Tuesday, May 2, 2017