JMU News
Making Toothpaste for Elephants Sparks Interest in Chemistry
---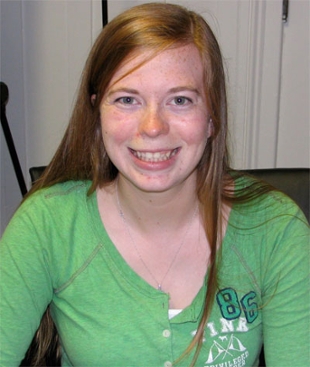 Casey Rogers received a $5,000 Honorable John W. Warner STEM Teacher Scholarship this summer.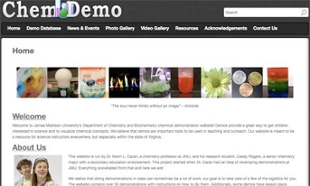 Casey Rogers helped put the ChemDemo website together as a resource for teachers. Related Content:
Casey Rogers tells the story something like this: "I have a pet elephant and he uses a lot of toothpaste so I make my own so it's not so expensive." 
It's a story that enchants elementary-school-aged children, especially when combined with her visual: A colorful, foamy substance that overflows a graduated cylinder and spirals into a tray. It's not magic, it's basic chemistry in action. A simple chemical reaction using liquid dish soap, potassium iodide and hydrogen peroxide that is both educational and fun. It's also a safe and inexpensive experiment teachers can do in their classrooms. 
Instructions for conducting the experiment, and many others, can be found on a website Rogers has helped put together over the past 18 months called ChemDemo. In addition to the demonstrations, the website—a compilation of materials that was launched in June—has lesson plans, problem sets, handouts and other resources for teachers, all aligned with Virginia's Standards of Learning. 
The elephant's toothpaste experiment is not just for young children, it is also applicable to high-school students. Rogers just changes the story a bit to make it more appealing for an older audience. 
Sharing her passion for chemistry is something Rogers, a senior chemistry major, is looking forward to continuing after she graduates from JMU with a master's degree in teaching in 2013. While there are more lucrative professions for someone with a chemistry degree, Rogers decided in high school that her place is in a classroom. "I just decided, 'You know, I really like school. I can't see myself being anywhere but school. I really like chemistry. I'll teach chemistry and I've never changed my mind." 
That passion helped Rogers win a $5,000 Honorable John W. Warner STEM Teacher Scholarship this summer from the Armed Forces Communications and Electronics Association. 
"Casey has been a very active member of my research group. She is one of the most independent and motivated students with whom I have worked," said her advisor, Dr. Kevin Caran, an associate professor of chemistry and biochemistry and one of two faculty members who wrote letters of recommendation to accompany her scholarship application. 
While Rogers enjoys making presentations to young children, she is planning to teach high school. "It's their first real exposure to chemistry," she said. "You get a little bit in middle school, but it's your first real chemistry class and I want to catch them early." 
She's also hoping to catch the attention of teachers who could use the ChemDemo website. Earlier this month, she presented a poster about it at the American Chemical Society's annual meeting in Denver and she will talk about it again at a meeting of the Virginia Association of Science Teachers. The website content "enables teachers to get a feel for how it might work into a lesson and how they could really use it to teach something," she said. 
It also saves them some preparation time since most of that work is already completed. No elephants are required. 
Funding from a departmental Research Corporation for Science Advancement grant and the Tickle Family Endowment for Science and Mathematics has been used to support the ChemDemo project, Rogers said. Rogers also received a $1,000 Murray Spindel scholarship this year, which is awarded annually to an outstanding undergraduate scholar engaged in the study of science, technology, engineering and mathematics (STEM) education. 
Published: Friday, September 16, 2011
Last Updated: Tuesday, February 27, 2018