Searching for a Career?
---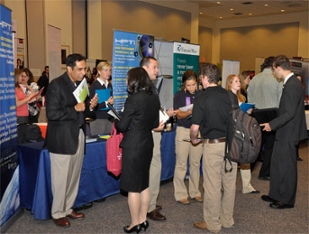 James Madison University's spring Career and Internship Fair will take place Tuesday, Feb. 22, in the Festival Conference and Student Center Ballroom. The fair, which runs from noon to 4 p.m., is hosted by JMU's Career and Academic Planning office. 

Lee Ward, director of CAP, said, "This is our largest event in years - as of today 126 employers will be attending." 

The career fair will provide full-time and internship opportunities to a variety of majors. The diverse list of employers attending the fair allows student exposure to regional companies as well as national organizations. This year in response to student feedback, several charitable nonprofit organizations will have tables at the fair. 

For a detailed list of employers attending by major and for student tips on navigating the fair, visit the Career and Academic Planning website. 
Published: Monday, February 21, 2011
Last Updated: Wednesday, November 15, 2017