JMU Dance Ensemble Performs Student, Faculty Choreography
---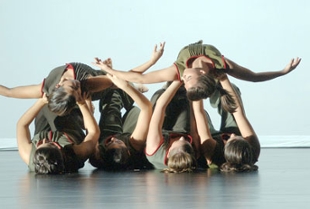 The James Madison University School of Theatre and Dance will showcase its nationally recognized dance program when it presents the Contemporary Dance Ensemble in concerts featuring choreography by student, faculty and guest artists. 

DATES: March 25-27, 2010 
TIME: 8 p.m. 
LOCATION: Latimer-Shaeffer Theatre, Duke Hall, JMU 

Artistic Director Cynthia Thompson has assembled a talented group of JMU performers for the final dance event of the academic year. The concert will highlight the diverse work of JMU faculty, outstanding dance student choreographers and New York City guest artist Faye Driscoll. 

Driscoll was hailed as �one of 25 to watch out for in 2008� by �Dance Magazine.� Her recent work, �837 Venice BLVD,� was named �one of the top five dance shows of 2008� by �The New York Times.� She is an artist adviser at BAX/Brooklyn Arts Exchange and an artist-in-residence at the Joyce SoHo. Previously, she was a member of Doug Varone and Dancers and choreographic assistant to David Neumann in his creation of �The Common Foreign Language of the Red-Haired People� with Mikhail Baryshnikov. Driscoll holds a B.F.A. from New York University�s Tisch School for the Arts. 

The Contemporary Dance Ensemble concert is a collaborative effort between students and faculty of the School of Theatre and Dance but the work created by the students is the heart of the Contemporary Dance Ensemble. This concert showcases the work of seniors Nicole Fiorella, Kelsey Ann Hickson and Sarah Lokitis and juniors Leah S. Hartman and Joanna Rose. 

Faculty members Cynthia Thompson and Shane O�Hara premiere new work with Thompson�s �1000 Juliets� set to music from �Romeo and Juliet Suites 1-2-3� by Sergey Sergeyevich Prokofiev. Shane O�Hara is premiering a piece titled �Overdrive� to the �NASA Requiem� by Mitchell Mercurio. 

Costume designer LeVonne Lindsay showcases her work and costume manager Kathleen A. Conery and student costume designer Leah S. Hartman also present designs. Emily Becher-McKeever is lighting designer. 

Tickets are $10 general admission and $8 for children under 12, senior citizens and JACard holders. Advance tickets and further ticket information can be obtained through JMU�s Masterpiece Season box office at (540) 568-7000 or (877) 201-7543 (toll free). 
Published: Friday, March 19, 2010
Last Updated: Friday, November 10, 2017