JMU Programs Bolster Nation's Homeland Security Efforts
By Dan Armstrong, JMU Public Affairs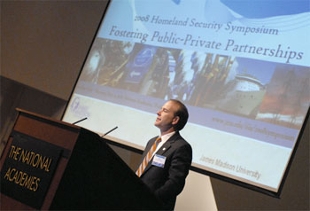 John Noftsinger speaks at the 2008 Homeland Security Symposium at the National Academies of Science in Washington, D.C. This year's symposium is May 13.
James Madison University is located just outside of the blast zone in the event of an attack on the nation's capital.
But much of the work at the university, says JMU Vice Provost John Noftsinger, is very close to the heart of U.S. national security.
Noftsinger, executive director of the JMU Institute for Infrastructure and Information Assurance, and his team are leading efforts in areas vital to the nation's security, including information security and assurance, critical infrastructure assurance and intelligence analysis.
"We were working in this area earnestly prior to 9/11, but with the occurrence of the national security crisis with 9/11, the opportunities were amplified, and we were in a position to serve that nation and our students," Noftsinger said. "Our information security programs and our work with partners such as the Mine Action Information Center demonstrated that we could compete and that we could get the attention of national leaders with regard to providing solutions for international security needs."
JMU offers information security master's degrees in both computer science and business administration, programs that were pioneered at JMU in the 1990s. Since that time, JMU's InfoSec program has been named one of seven original Centers of Excellence in Information Assurance Education by the National Security Agency, with teams from the university placing highly in national competitions such as the Collegiate Cyber Defense Competition.
The IIIA has also helped JMU bring in millions of dollars in grants in security-related fields.
Two of those grants, the Virginia-sponsored Commonwealth Information Security Center and the federally authorized Critical Infrastructure Protection Project, received in collaboration with George Mason University, helped establish homeland security and critical infrastructure protection as key strategic research areas for the university.
"The two main objectives for the grants were creating a modeling tool called the Network Security Risk Assessment Modeling Tool and to create a curriculum for a new generation of information analysts," Noftsinger said. "We actually completed that exercise and liked what we did so well that we actually implemented it."
The implementation of the curriculum led at first to an information analysis class at JMU, which now has expanded into a fully formed and one-of-a-kind undergraduate major as well as the establishment of the Institute for National Security Analysis at JMU. The major, which was designed largely using feedback from that nation's intelligence and national security leaders, is recognized as a preeminent training program for information analysts in both national security and competitive analysis.
"If you think about the traditional higher education missions of teaching, research and service, through the information analysis program, we're really covering the teaching. With research, we've funded project after project. And as far as service, things like the National Academies Symposium and our publications, we are really serving across the discipline," Noftsinger said.
The IIIA is preparing for its fourth annual Homeland Security Symposium at the National Academies of Science in Washington, D.C., which will be held May 13. The symposium brings together hundreds of security experts from all levels of government, academia and the private sector to advance collaborative partnerships and advance the discussion of national security research areas.
Critical infrastructure research funded by the IIIA at JMU and other institutions has covered areas ranging from chemical and HAZMAT management to commercial facilities protection, emergency services, energy security, information technology, policy transportation systems and water assurance.
"We have positioned ourselves as facilitators and thought leaders," Noftsinger said. "We're partnering with a lot of different groups, and we're funding other universities a lot as well. Partnering has really been a theme of how we've achieved what we've done."
Noftsinger has served as deputy chair of the Critical Incident Analysis Group at the University of Virginia since 2003 and recently was elected as a senior fellow at the Homeland Security Policy Institute at George Washington University.
He and colleagues Ken Newbold, JMU director of research development and IBM security consultant Jack Wheeler published "Understanding Homeland Security: Policies, Perspectives, and Paradoxes" in 2007. The book, a holistic look at homeland security, is now commonly used in security classes at universities across the nation.
But, Noftsinger said, the strength of JMU's programs has always been its students.
"We've always been close to our academic programs, and I think that's kept us vital to the university and vital to our students. They ensure that we are well positioned to be a leader in the country in these new and important areas," he said. "As we are more and more technologically dependent and driven, and as the world becomes more complex, we also are more vulnerable. So that area will continue to be a rich opportunity for modeling, predicting and protecting and also for students and faculty to work together."
Published May 2009