Science and Technology
Hard Work Rewarded At Geological Society Meeting
---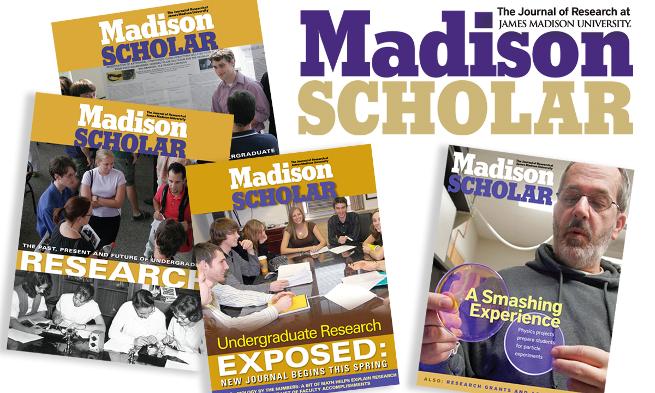 By Tim O'Keefe, JMU Public Affairs
Hard work along the shores of Lake Huron last summer paid off this fall for Amanda Hodges (left) and Lisa DeGrazia at the Geological Society of America Annual Meeting in Denver.
They spent three weeks of their summer along the shores of Lake Huron in Michigan, but the time was anything but a vacation.
Senior geology majors Amanda Hodges and Lisa DeGrazia spent that time hard at work, researching the hydrology of the Albert E. Sleeper State Park near Caseville.
"We were 100 percent dedicated to this project," said Hodges.
The extra effort paid off.
Hodges and DeGrazia won the National Council Award for Outstanding Student Research at this year's annual Geology Society of America conference Oct. 28-31 in Denver. A poster about their research highlighted groundwater flow through the study area, which was tracked using chemical indicators such as PH values. The ground water flow plays an important role in the area's ecology. During their three-week research period, Hodges and DeGrazia collected 70 samples from the wetland surface water.
Geology and Environmental Science Associate Professor Steve Baedke, who directed the research, said this year's team of students worked better together in the field than any others. "Everything just went extremely smoothly," he said.
Baedke is used to success at the GSA. Last year, two of his students—Joe Bell and Sean Porse—won a similar award in Philadelphia.
DeGrazia acknowledged the benefits of having Bell and Porse offer their insight about the competition.
"Joe and Sean set the bar high and showed us what to expect," she said.
Baedke said the geology department's commitment to undergraduate research is a contributing factor to the success. "It reflects the ethic of the department for students to do meaningful research," he said. "If this was not important to JMU, we wouldn't have the time and money spent on this project."
For a third consecutive year, the United States Geological Survey supplied grant money to cover travel expenses, lab equipment and hourly wages for the students.
Baedke also noted the students received some valuable mentoring from distinguished specialists with 20 to 40 years experience. The specialists, including some from the Indiana Geological Survey at Indiana University and North Dakota State University, offered advice on conducting field research and the significance of results.
"When you get all of that experience coming from these other researchers, it is hard to think that you are going to get too far off track," said Baedke.
Despite hearing about last year's conference from Bell and Porse, its size was still somewhat daunting, DeGrazia said. "[The GSA conference] was very intimidating and nerve-racking. We had never seen so many geology people at one place before."
Universities from around the country and companies from around the world sent representatives to the conference, which focused on the theme "International Year of the Planet Earth."
Published December 2007
Published: Thursday, January 1, 2009
Last Updated: Thursday, October 20, 2016