JMU Play Contemplates Fictitious Meeting of Einstein, Picasso
---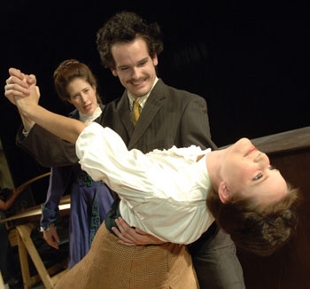 James Madison University's School of Theatre and Dance presents "Picasso at the Lapin Agile" at Latimer-Shaeffer Theatre, Duke Hall, from Tuesday through Saturday, Nov. 3-7, 2009, at 8 p.m. 

Imagine you're in a Parisian bar, the Lapin Agile, just after the turn of the 20th century. That's what American comedian, actor and writer Steve Martin did when he wrote "Picasso at the Lapin Agile" about a fictitious meeting of a few of the most brilliant minds of the 20th century. The yet-to-be-published 25-year-old Albert Einstein meets the relatively unknown 23-year-old Pablo Picasso at the bar in 1904. Throw into the scene an art dealer, an inventor and a philosopher, and discover whose genius will shape the new world and who is doomed to obscurity. This hilarious romp through Martin's imagination is an intelligent comedy on a collision course with the destiny of the world. 

"Picasso at the Lapin Agile" features Brandon Shockney as Pablo Picasso, Grey Robertson as Albert Einstein, Dylan Morris as Freddy, Brandon Duncan as Gaston, Blair Bowers as Germain, Christie Jackson as Suzanne, Margot Powell as Sagot and Nathan Taylor as Charles Dabernow Schmendiman. 

Completing the cast are Kaitlyn Benetz as The Countess, Amanda Newby as A Female Admirer and John Hudon as A Visitor. 

Tickets are $10 general admission and $8 for children under 12, senior citizens and JACard holders. For tickets and information, call the JMU Masterpiece Season box office at (540) 568-7000 or (877) 201-7543 (toll free). The box office, in Room 1107, Harrison Hall, is open from noon to 4 p.m. Monday through Friday. 

For more information or photos, contact Elizabeth Simmons, publicist for the School of Theatre and Dance, at simmonea@jmu.edu or (540) 568-7836.
Published: Tuesday, October 20, 2009
Last Updated: Thursday, October 26, 2017