Being the Change
Back in the 'Burg
---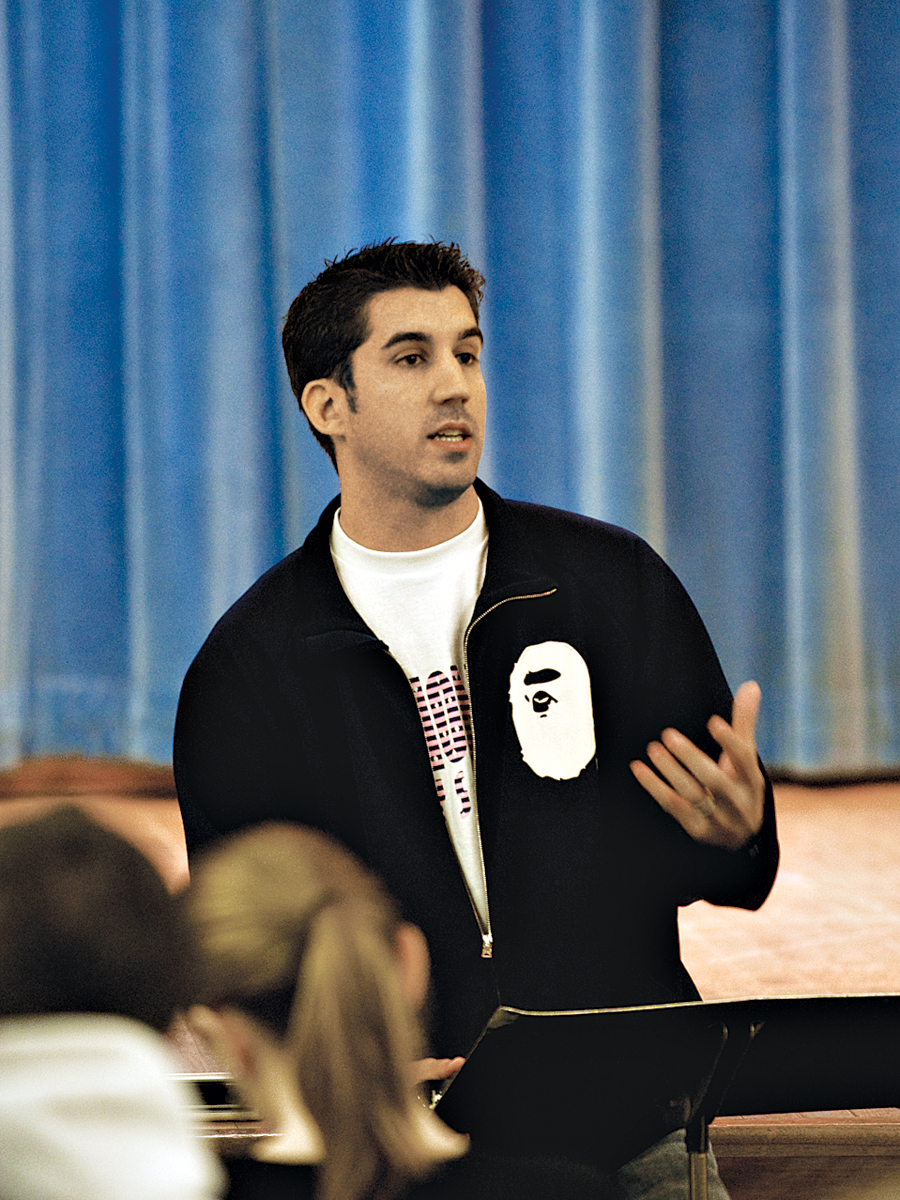 Columbia Records exec shares with students
By Evan Dyson ('08)
Years after graduating from JMU, Brian Nolan ('02) has learned that persistence and dedication pay off. Now an executive at Columbia Records, Nolan told his story to a group of nearly 100 students in David Cottrell's 2009 spring semester Music Industry class.
Nolan grew up near Washington, D.C., in Silver Spring, Md., and arrived on campus in 1998, unsure of what path to take. As a sophomore, he began a marketing major with a music industry minor and obtained a promotional internship with Arista Records. With that, he had found his niche.
Though "mundane," the internship provided an inside look at the music industry and the opportunity to gain contacts at Arista, Jive and RCA Records. "Everyone has the potential to help you out, not just the people you're working with," Nolan says.
Through a series of fortunate events, work with an online company led to a chance encounter with an employee at Rawkus Records. The connection landed him a Rawkus internship in 2001. Everything was going well and there was even the promise of a job after graduation. However, after 9/11, Nolan says, Rawkus cut a number of their employees and there was no longer room for him at the label. Disappointed but not deterred, Nolan worked his way through a variety of low-income jobs after graduation, including a stint in the mailroom at Arista Records.
"There are so many different hurdles that knock you down," he says. But determined to work his way up from the bottom, Nolan looked at those experiences as a test of dedication. "It just weeds out all the people who don't really care, and it weeds out the people who aren't really focused."
In 2005, Nolan's boss at an independent promotion company in Baltimore was hired by Sony, Columbia's parent company. Nolan accompanied him to Columbia, where he remains today. Nolan's department is responsible for getting the label's artists on the radio.
After sharing several more stories and dishing advice on how to get ahead in the business, Nolan answered students' questions ranging from internship advice to the future direction of the music industry.
Nolan is optimistic about the future of his business and the job prospects for current students. "I want to tell these kids that I was in their position," says Nolan. "I didn't come from a music industry family. I didn't go to NYU undergrad. You know, it's absolutely possible if you put your mind to it." Nolan credits music professor David Cottrell as an early mentor. "Brian is a hardworking guy and a great example of what students can become," Cottrell says. In 2005, Nolan married JMU alumna Ashley Day ('02), and the couple lives in New York City.
From Fall 2009 Madison.
Published: Saturday, August 1, 2009
Last Updated: Thursday, October 20, 2016