JMU Students Perform Diverse Dances by Faculty, Guest Choreographers
---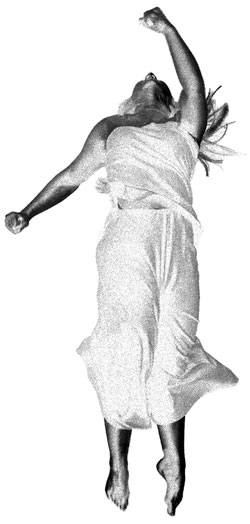 HARRISONBURG - The James Madison University School of Theatre and Dance will showcase its nationally recognized dance program when it presents the Contemporary Dance Ensemble in concert. 
DATES: April 2-4, 2009 
TIME: 8 p.m. Thursday-Saturday 
LOCATION: Latimer-Shaeffer Theatre, Duke Hall, JMU 
Artistic Director Cynthia Thompson has assembled a talented group of JMU performers for the final dance event of the academic year. The concert will highlight the diverse work of JMU faculty, outstanding dance student choreographers and guest artists Keira Hart-Mendoza, who graduated from JMU in 2003, and James Martin. 
Martin is the associate arts professor and associate chair of New York University�s Tisch School of the Arts Dance Department where he has been a full-time faculty member since 1990. Martin has taught the Mark Morris Monnaie Dance Group (Brussels), Ballet Academy of Stockholm, Dansen Hus (Copenhagen), Universite du Quebec � Montreal, Bat Dor School (Tel Aviv), National Institute of the Arts (Taiwan), American Dance Festival, White Mountain Dance Festival, Wesleyan University and Tulane University. 
Hart-Mendoza is the artistic director UpRooted Dance in Washington, D.C., and the program manager of production and education at Joy of Motion Dance Center. 
The Contemporary Dance Ensemble concert is a collaborative effort between students and faculty of the School of Theatre and Dance but the work created by the students is the heart of the ensemble. This concert showcases the work of seniors Ilana Burger, Zilda Decker, Lisa Perkinson and Tiffany Workman and junior Sarah Burke. 
This year, costume designers Kathleen A. Connery, LeVonne Lindsay and Pamela S. Johnson showcase their work with student costume designers Sarah Burke, Zilda Decker and Tiffany Workman. Guest lighting designer is Adam H. Chamberlin of the Department of Dance and Choreography at Virginia Commonwealth University. 
Tickets are $10 general admission and $8 for children under 12, senior citizens and JACard holders. Advance tickets and further ticket information can be obtained through JMU�s Masterpiece Season box office at (540) 568-7000 or (877) 201-7543 (toll free). 
Published: Tuesday, March 24, 2009
Last Updated: Tuesday, October 24, 2017