JMU Schools Collaborate to Stage 'City of Angels'
---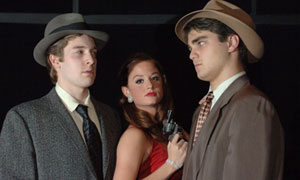 HARRISONBURG - James Madison University's School of Theatre and Dance and School of Music present the musical comedy "City of Angels," a story based in Hollywood where all things are possible. 

Dates: Feb. 24-28 at 8 p.m.; March 1 at 2 p.m. 
Location: Latimer-Shaeffer Theatre, Duke Hall, JMU 

With book by Larry Gelbart, lyrics by David Zippel and music by Cy Coleman, "City of Angels" follows Stine, a young writer, as he adapts one of his hard-boiled detective novels for a screenplay. When Stines� main character, a private eye named Stone, comes to life, the "reel" becomes "real" as their identities become intertwined. 

Winner of six Tony Awards, including one for Best Musical, "City of Angels" is directed by Kate Arecchi, assistant professor of musical theater at JMU. Musical director is Patrick Walders, assistant professor of music, and choreography is by Sarah Gawron, a JMU senior.

"City of Angels" features Austin VanDyke Colby (Stine), Nathan Shropshire (Stone), Julie Schroll (Gabby/Bobbi), Elizabeth Chidester (Donna/Oolie), Thomas E. Hendrickson (Buddy/Irving), Briana Marcantoni (Alaura/Carla), Rachel Schur (Avril/Mallory), Joe Scott (Pancho/Munoz) and Josh Eflin (Jimmy). 

Sarah Smith, Allison Kinney, James Ballard and Ben Wolfred complete the cast as the vocal quartet "Angel City Four," along with ensemble members Rob Anderson, Joseph Carson, Brandon Duncan, Ali Hoxie, Corey Hummerston, Jason Itam, Laura Macinski, Lesie Pumphrey, Lauren Ramsey, Mike Sakell, Emily Shinn and Daniel Snyder. 

Tickets are $12 general admission and $8 for children under 12, senior citizens and JACard holders. For tickets and information, call the JMU Masterpiece Season box office at 540-568-7000 or 877-201-7543 (toll free). The box office, located in Room 1107 in Harrison Hall, is open noon-4 p.m. Monday-Friday. 
Published: Monday, February 9, 2009
Last Updated: Monday, February 26, 2018