You are in the main content
Hopscotch:
This past spring, Hopscotch, a journal that publishes literature for children written by JMU students, reached out to the Reading Road Show-Gus Bus with a new opportunity for children who visit the bus. Hopscotch student stories are traditionally accompanied by illustrations, similar to any children's book. In past years, the journal has primarily used imagery from the student author; however, upon meeting with Hopscotch editors a new idea emerged. We saw an opportunity to have the children who visit the Gus Bus in local neighborhoods create illustrations for the upcoming publication. Early literacy specialist, Kayla Runion, expresses her enthusiasm for this endeavor: "Many of the activities we do on the Gus Bus focus on drawing and coloring as a means of expression and learning, so it seemed natural that we would create an illustration activity with the stories to be published in the 2013-2014 edition of Hopscotch."
From there, editors began collecting stories from JMU students, eventually settling on two entries that were in need of illustrating. With stories in hand, Gus Bus early literacy specialists brought this original literature to the children, who then created potential drawings for the journal. Children were informed at the start of this two week venture that their images could be chosen for Hopscotch. Literacy specialists guided the children through each plot point, allowing them to create corresponding images using illustrator's sheets, similar to a simple comic book page without pictures. At the conclusion of the project all drawings were collected and submitted to the Hopscotch staff. The editing team curated the student artwork and selected two sets of images to be featured alongside each story.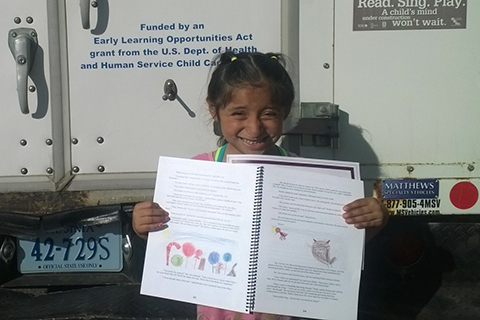 The journal was then off to the press, and within a few weeks we received several copies for the Gus Bus. At the neighborhood stops we presented the chosen students, Ja'Niya Wheeler and Yadira Clemente, with certificates of achievement, as well as their own personal copy of Hopscotch. Kayla Runion explains the importance of this collaboration: "often learning stops on the page or gets put on the fridge with a magnet, but with the help of Dr. Canivell and her students, the Gus Bus team was able to take learning to an experiential level with rewarding results." In addition to the Gus Bus and JMU community, the journal will also be distributed to libraries at local elementary schools.