Development marks

For use with general OAG branded solicitations and other various collateral


For use with all OAG Madison Giving Campaign materials. The annual spring campaign is geared to faculty, staff and students


For use with OAG's Giving Day that is to be an annual reoccuring campaign.


For use with the Madison Connection Call Center


For use with the GOLD Network website and any solicitations connected with it

Valley Scholars

President's Council

Office of Planned Giving (Founder's Society)

Women for Madison
JMU Purple 
 

Pantone 2685
Metallic: Pantone 8802 C

C: 92 M:98 Y:0 K:0
Use solid purple for small emphasis areas (headers, behind white wordmark) and avoid lavender tints.
JMU Gold
 

Pantone 4515
Metallic: Pantone 871 C

C: 0 M:9 Y:50 K:24
Use gold, gold tints or white for large main areas such as behind text.
JMU Brand Colors: web guidelines
 

Dark Purple #450084
R: 69 G: 0 B: 132
for titles, background color, linked text, buttons

Purple #B599CE
R: 181 G: 123 B: 206
use for icons, graphic elements


Light Purple #DACCE6
R: 218 G: 204 B: 230
use for graphic elements, background color

 

Dark Gold #AD9C65
R: 173 G: 156 B: 101
use for titles and graphic elements

Gold #CBB677
R: 203 G: 182 B: 119
graphic elements

Light Gold #F4EFE1
R: 244 G: 239 B: 225
background color
 

Slate #333333
R: 51 G: 51 B: 51

Dark Gray #595959
R: 89 G: 89 B: 89


Gray #B2B2B2
R: 178 G: 178 B: 178

Light Gray #D6D6D6
R: 214 G: 214 B: 214

For Office of Annual Giving, when JMU gold color is primarily used in large spaces it as at a tint of 40% but can range between 20 and 50, never 100%
For other development pieces, color fills should be JMU purple and gold
Accent colors
Eyedropper color pulled from an image that is being used in the design may be used as an accent color.
Other colors that have been used for infographics on the Gold Networking website pages and the FY 2014-2015 Impact Report and can be used in similar instances of differentiation are as follows:
 

C:89 M:45 Y:0 K:0
R:0 G:122 B:192
#007AC0 

C: 70 M:16 Y:0 K:0
R:42 G:169 B:224
#2AA9E7 

C:68 M:0 Y:45 K:0
R:64 G:188 B:164
#40BCA4 

C:51 M:0 Y:99 K:0
R:138 G:198 B:65
#8AC540  

 

C:0 M:51 Y:99 K:0
R:246 G:145 B:31
#F6911F 

C:0 M:90 Y:85 K:0
R:238 G:64 B:54
#EE4036

C:8 M:99 Y:37 K:0
R:220 G:28 B:104
#DC1C68

C:27 M:100 Y:0 K:0
R:185 G:28 B:141
#B9188D
NOTE: These colors do not make up a large majority of the colors used for OAG. The focus should remain on the purple and gold.
Brand typography
Madison brand typography includes preferred font families. The serif font Adobe Garamond is for body text and the sans serif font Adobe District is for headlines, sidebars and captions. The slab serif font Adobe Stymie is also appropriate as an alternate headline font, and Adobe Franklin Gothic may be used as accent font.
Stymie BT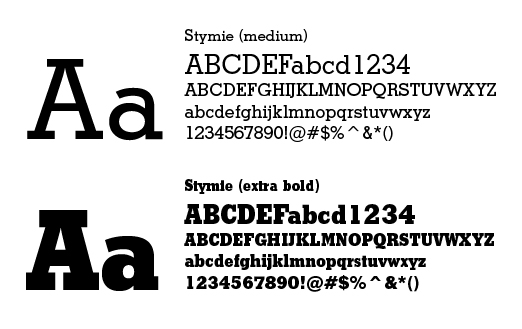 Adobe District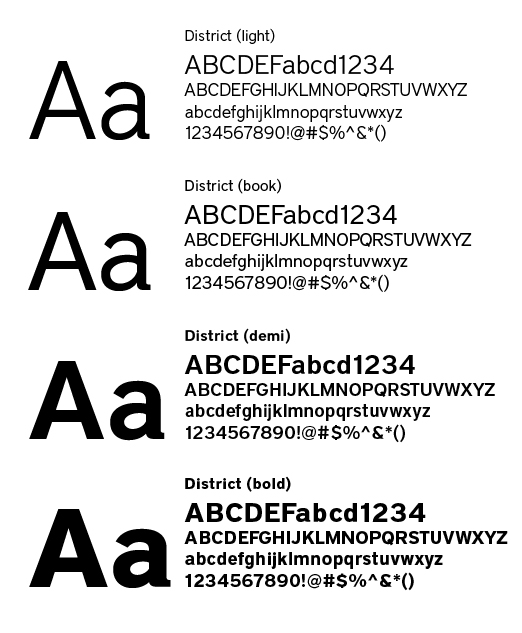 Adobe Garamond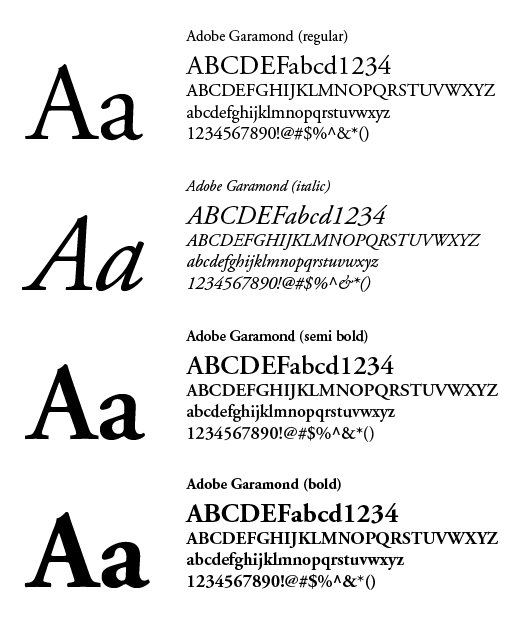 Office of Annual Giving: in addition to the JMU brand typography
Titles are primarily in all caps in District Light. Stymie Bold can also be used for titles.
Body copy is primarily in District Book.
Links are in District Demi or Bold
Lily Wang is only used occasionally
Lily Wang: 

Other development areas: in addition to the JMU brand typography
Serif and sans serif:
Most often use District and Adobe Garamond
Donor Relations and BTC Calendar - Futura and Bickham Script
Script
Women for Madison: Zapfino (looks calligraphic quill pen)
President's Council: Bickham Script (and it's swash capital variants)
Bickham Script: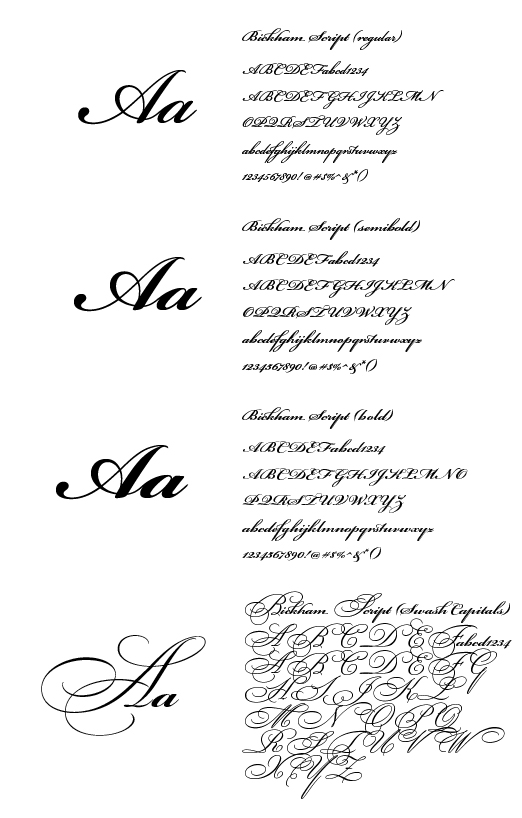 Zapfino: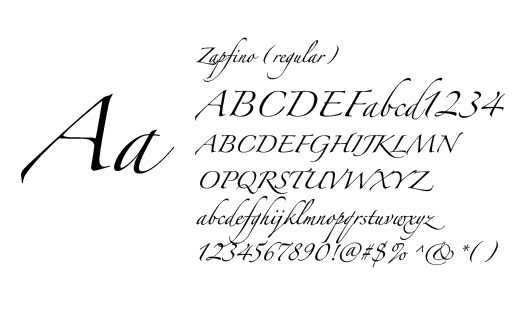 Office of Annual Giving photography:
Photos should primarily consist of people either laughing and happy or engaged in doing something. 
Extend Your Reach photos are taken with a purple filter over the flash which is located behind the subject and the tip of the finger is in focus while the rest of the picture is out of focus. The shot does not include the head.
NOTE: The Extend Your Reach photos that exist, already have the icons and the lens flare added in the photoshop file. To make new ones those layers must be added to the new files.
Valley Scholars photography
Documentary and candid style
Women for Madison photography
JMU campus doors and bluestone background
The OAG icon style is flat and usually monochromatic. 
These are the icons for the 8 sectors that the university focuses on:
| | | | | | | | | |
| --- | --- | --- | --- | --- | --- | --- | --- | --- |
| Advancing Culture | Boosting Innovation and Discovery | Renewing Civil Society | Increasing Access | Competing in Athletics | Leading in Business | Improving Health Care | Reforming Education | Wilson Hall icon for the Extend Your Reach, Touch More Lives messaging: |
Examples of icons in use: 
For the Office of Annual Giving, when creating new illustrations and icons, the general style is to be friendly, playful, and rounded, not sharp. The use of a stroke with rounded ends and corners helps to create that look on the shapes.
Office of Annual Giving: Flat color is primarily used, but Madison's Treasure does use bluestone and antique paper textures

Office of Annual Giving: graphic device
A dashed (3 and 2) line can be used but should be between 2-3 pt stroke
Women for Madison
Uses bluestone texture
Office of Planned Giving
Uses bluestone texture
Women for Madison
Trajan "O" oversized, cropped with a drop shadow. The "O" is inspired by Dolley Madison circle groups she create to help James Madison in times of war and political purposes. The "O" is also symbolic for women.
Office of Planned Giving 
Purple textured pattern
Women for Madison
Light, shallow drop shadows; emboss