You are in the main content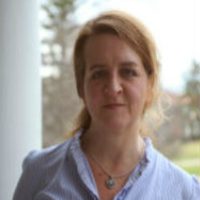 Dr. Mary Gayne
gaynemk@jmu.edu

Jackson Hall, Room 207Office phone: 540-568-6172MSC 2001
58 Bluestone Drive
Harrisonburg, VA 22807
Associate professor of history
Education

Ph.D.,
Cornell University
Fields and specialties

French history, early modern Europe, material culture, history of work
Teaching areas
French, world history,
methods
Research interests

Absolutist state-building; corporate practices and liberal economics; work practices; everyday life and culture; gender, specifically masculinity
Selected publications and presentations
Court Medicine: Healthcare Personnel and Sanitary Politics in Europe, 15c-18c, London School of Economics, 21-22 June 2012, "Establishing Courtly Governance of Eighteenth-Century French Wigmakers."
Body Techniques in the Early Modern Period, Deutsche Forschungsgemeinschaft Research Network, Saarland University, Saarbrücken, Germany, 27-28 May 2011, "Work Culture: The Gendered Practices of Hair Harvesting and Wigmaking in Eighteenth-Century France."
"La Taxe sur les Perruques de 1706: L'Intégration du Corps dans la Société Marchande de l'Ancien Régime" in Actes du colloque international du Centre de Recherche du Château de Versailles: "Cultures de cour, cultures de corps en Europe, XIVème-XVIIIème siècles" (Paris: Presses Universitaires de Paris-Sorbonne, August 2011), 229-244.
"Illicit Wigmaking in Eighteenth-Century Paris," in Eighteenth-Century Studies, 38:1 (2004), 119-137.
"Japanese-Americans at the Portland YWCA," in Journal of Women's History 15:3 (Autumn 2003), 197-203.
Service
Moderator, CFI Faculty Flashpoint Series
Chair, College of Arts and Letters Faculty Advisory Committee
Moderator and coordinator, History Department Brown Bag Research Talk Series