President's Council
You are in the main content
Join with a gift of at least $1,000 per year.* Give now.
President's Council members make a difference. JMU relies on your annual contributions to sustain excellence and fuel new bold initiatives. And as we find ourselves in an environment of declining resources, the value of your philanthropy will be more critical than ever. Please join today.
*Graduates of the past five years may join with a gift $200+  and graduates of the past six to 10 years may join at $500+ per year.
Courtesies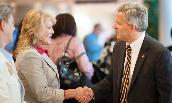 • Receive the PC e-newsletter 
• Network other PC members
• Receive invitations to exclusive events
• Get advance access to campus news
• Have unique opportunities to interact with JMU President Jonathan R. Alger