Furious Flower
Yusef Komunyakaa photographic exhibit
Mon, 19 Jun 2017 12:00 AM - Mon, 31 Jul 2017 12:00 AM
On display June 19 to July 31, 2017
Festival Conference & Student Center (lower level)
Prism Gallery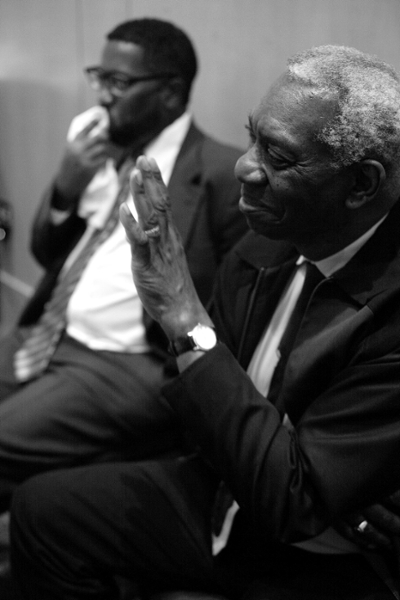 Free and open to the public. Visitor parking meters are located across the street from Festival in Lot C12 behind the bus stop. 
As part of our summer Legacy Seminar, "Facing It: The Poetry of Yusef Komunyakaa," Furious Flower shares images from its archives and those on loan from poet and photographer Rachel Eliza Griffiths. The photographs feature this Pulitzer Prize winning American poet in professional settings and at home. 
We present this exhibit in James Madison University's Prism Gallery in cooperation with the Madison Art Collective. 
About the poet:
Born in 1947 in Bogalusa, Louisiana, Yusef Komunyakaa is a son of the South. He served in the U.S. Army during the Vietnam War, an experience that infused his creative career. Since writing his first poem in 1975, Komunyakaa has published nearly 20 books, including fourteen collections of poetry, anthologies he's edited, a collection of prose writing, a translated volume, and two dramatic works. He has been awarded many major prizes, including the Pulitzer Prize for Poetry (1994), Kingsley Tufts Award (1994), William Faulkner Prize (1994), National Book Critics Circle Award (Shortlist, 1998), two Creative Writing Fellowships from the National Endowment for the Arts (1981, 1987), The Thomas Forcade Award (1991), The Hanes Poetry Prize (1997), Chancellor of the Academy of American Poets (1999), The Morton Dauwen Zabel Award from the American Academy of Arts and Letters (1998), The Wallace Stevens Award (2011), and others.
Images in Komunyakaa's work transcend the visual; the rhythms of jazz have been critical to the production of the poems. In an interview with his publisher Farrar, Straus and Giroux, Komunyakaa stated, "I do think that my creative psyche has been tooled by music, especially the blues and progressive jazz. I think of early blues voices—Robert Johnson, Big Mama Thornton, Bessie Smith, Muddy Waters, Son House, and Nina Simone … This becomes a psychological measurement for time. For the poet, the music one is immersed in can influence the natural music of a poem." The influence of jazz on the poet and its manifestation in his poetry have been documented by critics such as Michael S. Collins, Ed Pavlic, Angela Salas (all three of whom will serve as faculty members at "Facing It"), Sascha Feinstein, and Shirley Hanshaw.
Over four decades, Komunyakaa has created a robust, varied, and complex body of work. His poems have been the subject of numerous critical articles and essays, and his collections have been reviewed in illustrious publications such as the New York Times, Poetry Magazine, Village Voice, and The Bloomsbury Review. His poems have also been translated into several languages, including Italian, Czech, Portuguese, and Spanish. Thus, Komunyakaa is a poet of not only national but also international import, and he is truly an American poetic legacy.
Furious Flower presents a weeklong Legacy Seminar, "Facing It: The Poetry of Yusef Komunyakaa," in the summer of 2017 at James Madison University's Festival Conference & Student Center.