School of Art Design and Art History
Matt Eich, Artist's Talk: I Love You, I'm Leaving
Mon, 23 Oct 2017 10:45 AM - 11:45 AM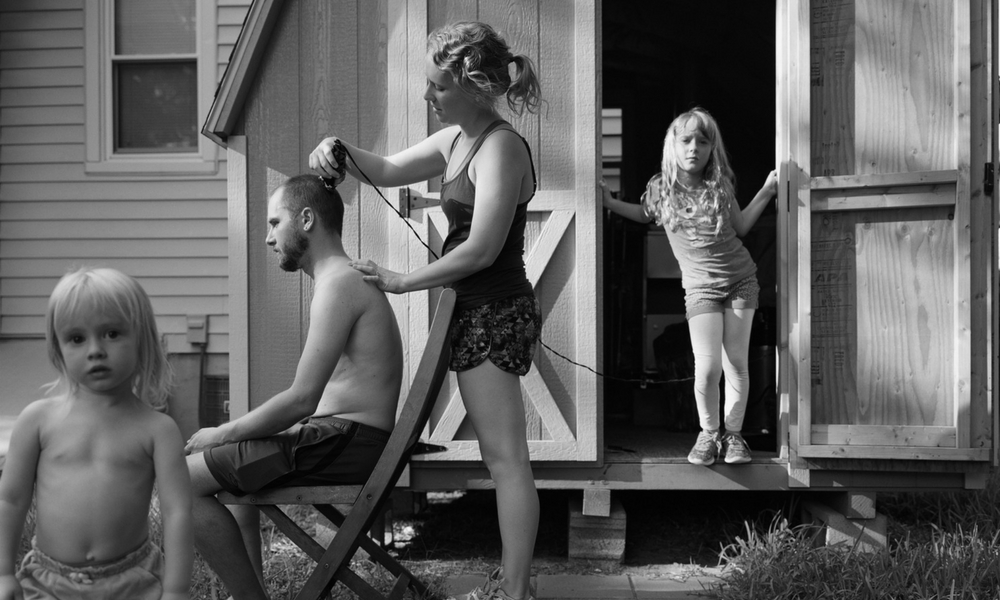 Eich, Matt. Backyard Haircut, Norfolk, Virginia. 24x30" Archival Pigment Print. 2015. From the series, I Love You, I'm Leaving.
I Love You, I'm Leaving
Artist's Talk: 10:45am
MHAC, 1019
Gallery Talk: Mon 10/23, 4:30pm
Opening Reception: Mon 10/23, 5 - 7pm
New Image Gallery, 131 W/ Grace St., Harrisonburg, VA
Entrance facing Main St, second floor, located inside artWorks Gallery.
Non-permit parking is available by the gallery and the Design Center lot.

Exhibit Dates: 10/23/17 - 12/1/17
Matt Eich (b. 1986) is a photographic essayist working on long-form projects about the American condition. His work is widely exhibited and has received numerous grants and recognitions, including PDN's 30 Emerging Photographers to Watch, the Joop Swart Masterclass, the F25 Award for Concerned Photography, a VMFA Professional Fellowship, an Aaron Siskind Fellowship, two Getty Images Grants for Editorial Photography, and many others. Eich's prints and books are held in the permanent collections of The Portland Art Museum, the Museum of Fine Arts Houston, The New York Public Library, Chrysler Museum of Art and others.
Eich studied photojournalism at Ohio University and holds an MFA in Photography from Hartford Art School's International Limited-Residency Program. His first monograph, Carry Me Ohio (Sturm & Drang, 2016) sold out quickly and his second monograph, I Love You, I'm Leaving (Ceiba Editions, 2017) is nearly sold out. He has three forthcoming monographs scheduled between 2018 and 2020.
Eich is a Professional Lecturer of Photography at The George Washington University in Washington, D.C., and lives in Charlottesville, Virginia with his wife and two daughters.