Current Exhibition at Duke Hall Gallery of Fine Art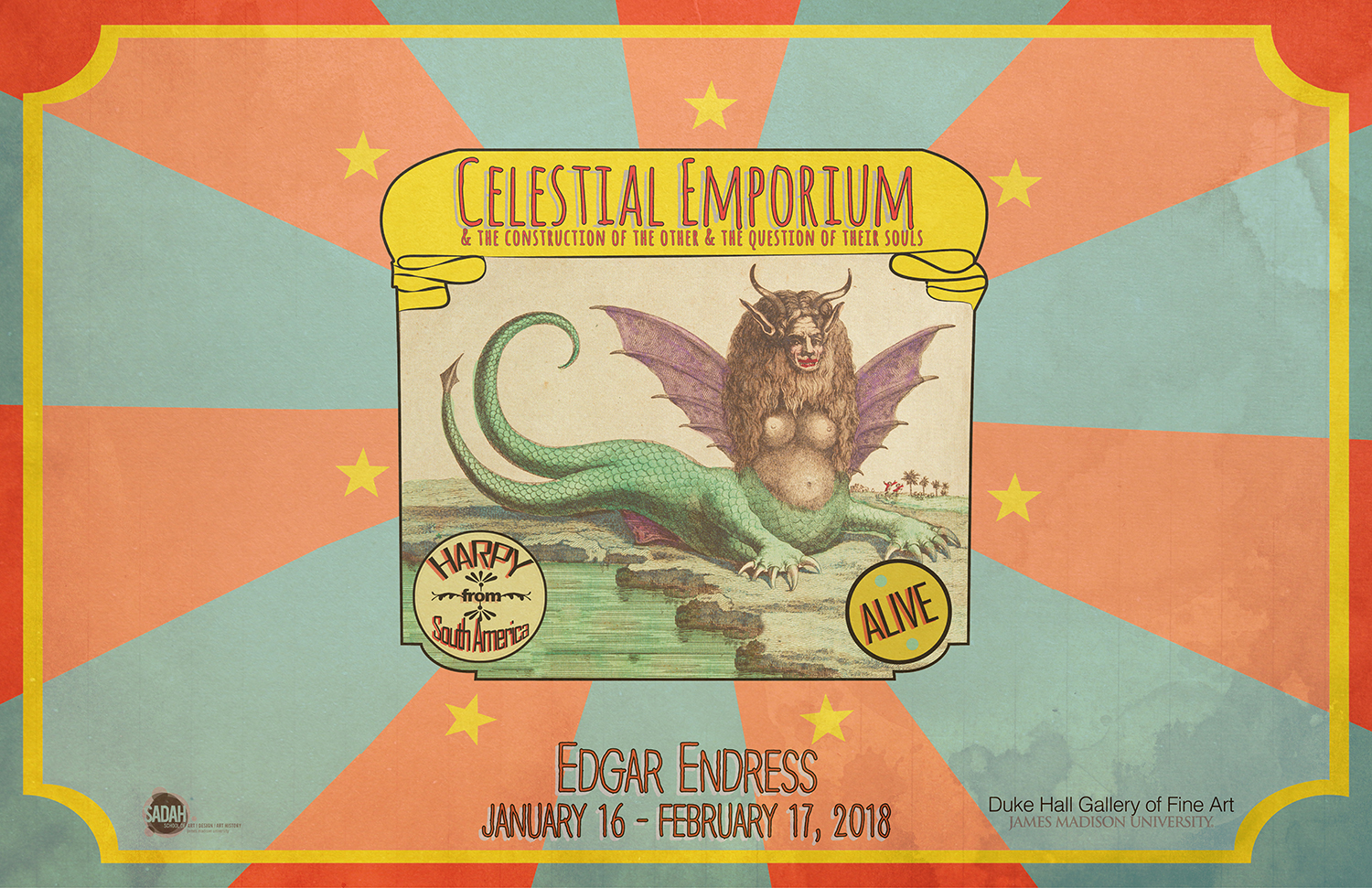 Edgar Endress: A Celestial Emporium
January 16 – February 17, 2018
Reception: January 22, 2018, 5-7p
Lecture: January 24, 2018, 12-1p, Duke Hall Room 2036
This is a CVPA Cultural Connections Artist-in-Residence Exhibition. Support provided by the College of Visual and Performing Arts, the School of Art, Design and Art History, and the Office of Access & Inclusion.
Duke Hall Gallery of Fine Art at James Madison University welcomes Chilean-born visual artist Edgar Endress to campus for a lecture and the reception of his exhibition titled A Celestial Emporium, which will be on display at Duke Hall Gallery from January 16 — February 17, 2018.

Endress is a professor of new media and graduate program director at George Mason University's School of Art. He creates content- and context-specific work, ranging from large installations to audio and video presentations, that bridges the gap between art and social engagement. Featuring mixed media, video works and a performative piece, A Celestial Emporium focuses on social issues across the Americas, and more specifically, the Caribbean, Central and South America.

Endress is a founding member of Floating Lab Collective, a group of DC-based artists who orchestrate large projects to create a platform for rethinking the creative process, and is a 2017-2018 College of Visual and Performing Arts Cultural Connections Artist-in-Residence. He received his M.F.A. in video art from Syracuse University, and has been awarded numerous grants and fellowships, including from the Virginia Museum of Fine Arts and the Creative Capital Fund.

A growing list of programs related to the exhibition will become available over the next two months. Programming efforts will focus on bringing the Latin community of Harrisonburg more exposure, while discussing important issues of immigration, labor and human rights.
For program updates visit our events page.
SPANISH / ESPAÑOL
Edgar Endress: A Celestial Emporium
16 de enero - 17 de febrero de 2018
Recepción del artista: lunes, 22 de enero de 2018, 5-7p
Conferencia del artista: miércoles, 24 de enero de 2018, 12-1p, Sala Duke Hall 2036
Apoyo para el CVPA 2017-2018 Cultural Connections Artist-in-Residence ha sido generosamente proporcionado por el Colegio de Artes Visuales y Escénicas de JMU, la Escuela de Arte, Diseño e Historia del Arte y la Oficina de Acceso e Inclusión.
La Galería de Bellas Artes Duke Hall de la Universidad James Madison le da la bienvenida al artista visual nacido en Chile Edgar Endress para una presentación y recepción de su exposición titulada A Celestial Emporium, que será expuesta en la Galería Duke Hall del 16 de enero al 17 de febrero de 2018.
Endress es profesor de nuevos medios y director del programa de postgrado de la Escuela de Arte de la Universidad George Mason. Él crea contenido, y obras de contexto específico, desde grandes instalaciones hasta presentaciones de audio y video que cubren la brecha entre el arte y el compromiso social. A Celestial Emporium presenta varios medios, trabajos visuales, y una pieza interpretativa con un enfoque social que recorre las Américas y, específicamente, el Caribe, América Central y América del Sur.
Endress es miembro fundador del Floating Lab Collective, un grupo de artistas basados en Washington DC quienes diseñan grandes proyectos para crear una plataforma para repensar el proceso creativo, y Artista en Residencia de Conexiones Culturales de la Escuela de Artes Visuales y Escénicas (2017-2018). Recibió su M.F.A. en Artes Visuales de la Universidad de Syracuse y ha sido otorgado numerosas becas como la del Museo de Bellas Artes de Virginia y el Fondo de Capital Creativo.
La Galería de Bellas Artes Duke Hall tiene como objetivo presentar el más alto nivel de programación en las bellas artes, crear un espacio activo para el discurso de los problemas vitales que enfrenta nuestra sociedad y ser un líder visionario en las bellas artes para la comunidad.
En los próximos dos meses habrá información adicional sobre eventos relacionados con la exposición. Los esfuerzos de programación se enfocarán en brindar mayor atención a la comunidad latina de Harrisonburg, mientras se debaten temas importantes de inmigración, derechos laborales y humanos. Para actualizaciones al programa, visite jmu.edu/dukehallgallery.                                  
INFORMACIÓN SOBRE LA GALERÍA
Duke Hall - Sala 1022, 820 South Main Street, Harrisonburg, VA 22807
(540) 568-6918
HORAS
martes a sábado, 11a-5p
El primer viernes del mes hasta las 8p
ESTACIONAMIENTO
Mason Street Deck, JMU, durante los eventos de la galería