Advocates speak for the interests of individuals and groups, and assist in all phases of communication development toward the fulfillment of interpersonal and organizational goals. Skilled advocates adopt diverse communication strategies that assist clients in articulating interests and desired outcomes, develop plans for implementing change, and design effective messages for target audiences.
The unique combination of theoretical rigor, research skills training, and focus on practical advocacy skills situates the communication professional as competitive in the professional marketplace. Specifically, graduates are prepared for a variety of positions.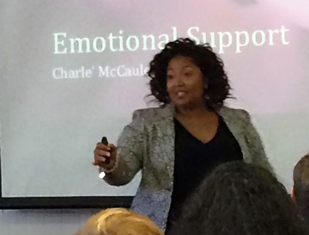 "The appreciation and gratitude I feel for this program is beyond measure. This has been the most difficult, yet rewarding experience of my life. JMU has become a haven for much needed intellectual growth and opportunity."
-Charlé McCauley ('16)
Careers in communications 
Communication Specialist,

Public Relations Manager,

Advocacy Coordinator and Project Manager,

Director of Advocacy and Research,

Project Manager,

Program/Campaign Manager,

Advocacy and Strategic Communication Specialist,

Advocacy Consultant,

Outreach Coordinator,

Community Ombudsperson.
Careers in advocacy organizations and consulting firms
Media relations,

Research and program development,

Community outreach/relations, and

Education.
Further, because students are trained in the communication competencies of advocacy broadly, they are prepared for a variety of positions in any number of advocacy related organizations ranging from non-profit companies to large international non-governmental agencies (NGOs).