Study of the Effects of Aging on Landmines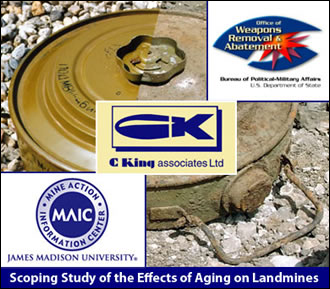 James Madison University's (JMU) Center for International Stabilization and Recovery (CISR) received a grant in the amount of $273,755.79 from the US Department of State, Bureau of Political-Military Affairs, Office of Weapons Removal and Abatement (PM/WRA). The project, "Study of the Effects of Aging on Landmines, Phase 2, Year 1" was conducted from 7/1/09-6/30/10.  The grant enabled CISR to continue their study on the effects of aging on landmines. 
This grant was a follow-up to the 2008-2009 grant "Scoping Study on the Effects of Aging on Landmines." During the first phase of the study, it was determined that there is convincing anecdotal evidence from field study (Cambodia) leading to the hypothesis that, in affected countries throughout the world, many types of landmines are being neutralized over time due to aging and environment. The second phase of study  further determined incidence of degradation; identified relationships between aging, environment, and landmine degradation; and determined implications of landmine aging for the mine action community.  The grants were managed by CISR, in collaboration with JMU faculty from the Departments of Geology and Chemistry.  JMU faculty and staff also worked in conjunction with C King and Associates, a company specializing in the technical and procedural aspects of mine clearance.
This project was developed as a multi-year study effort. In each follow-on year additional countries can be studied and mines researched in an attempt to better understand the aging of landmines, in order to potentially enhance the productivity of the demining process, assist land clearance prioritization and support land release. 
Track your Aging data: The Aging Study team would like practitioners to track information relevant to the aging of landmines during their clearance operations. We encourage you to download the following form in order to track this information. You may send it to cisr@jmu.edu, where we will maintain a database of the information collected in order to inform future aging research. Click here to download the form. 
Center for International Stabilization and Recovery
MSC 4902 or 1028
Harrisonburg, Virginia 22807

800 South Main Street
Harrisonburg, VA 22807
Contact Us