Content Creation: Profiles
Step 1 - Create Profile
Use a Creation Method

 to select profile template or copy an existing profile to edit

Edit the file name to reflect the new faculty/staff person and place the file in the correct folder
Naming Profiles
Profile file names should follow the format lastname-firstname. For example, James Madison's profile file name would be madison-james, which should be entered in both the Display Name and Title fields. 
Good profile names:
Bad profile names:
John Smith (Do NOT use spaces, capital letters, or formats other than lastname-firstname)
Doe, Jane (Do NOT use spaces, capital letters, or special characters like commas)


Placement folder for Profiles
Place all profiles in your main website folder under a folder named "people."
Profile Images
Profile images have their own special class that formats them as circular images. This means that you must upload an image to the Thumbnail Image field that is 200 x 200 px for the image to display correctly. 
If you want to upload images before creating the profile, use the Add Content button and select Responsive, then Profile Image 200x200.


This will create a profile image file that you can upload a 200x200 image into. Change the profile image file name and placement folder. You will need to save your profile images to a "_images" folder in your main folder, instead of the shared "_images" folder on the JMU site.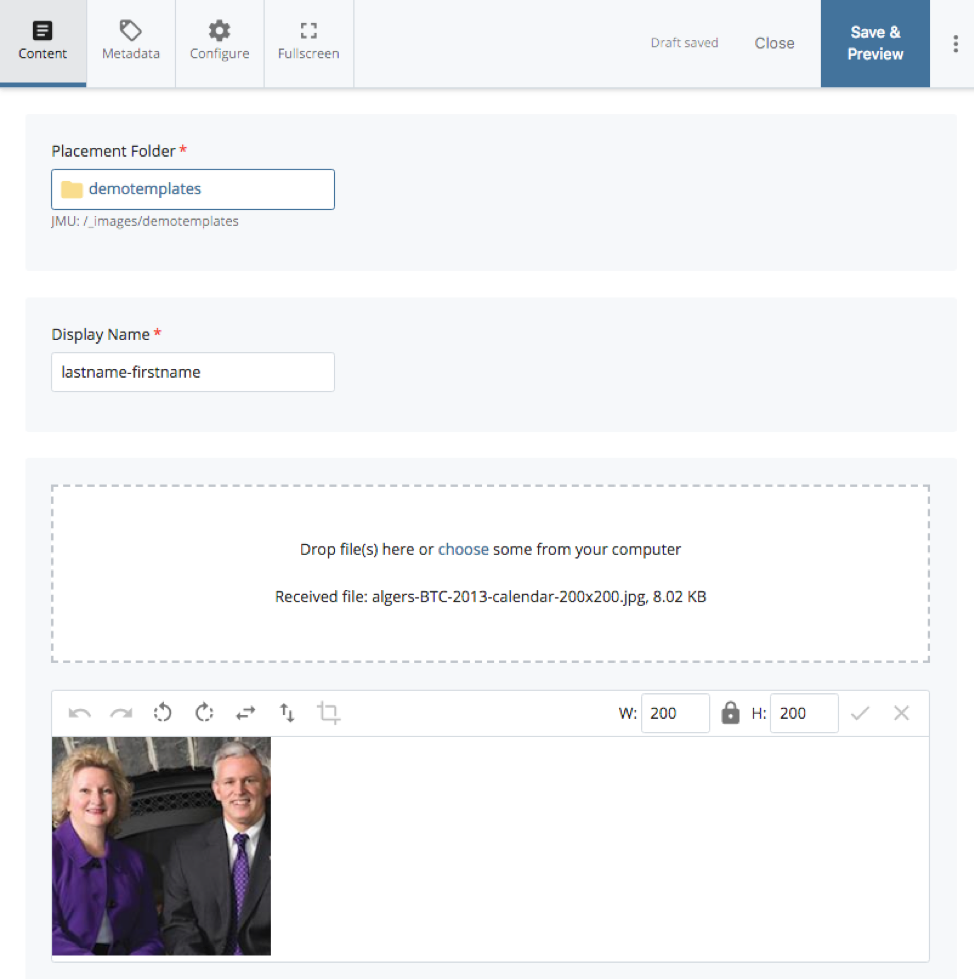 Follow these dimensions for profile images:
Resolution must be 72dpi

Recommended file format is .jpg with quality of 8
See these profile examples: 
Profile Content
Add desired content to the WYSIWYG content field. For profiles, this is usually text about the individual.
Profile tags
You must use a Profile role tag like: _tags/Profile/faculty or _tags/Profile/staff to specify if this is a faculty member versus a staff member in your department.
Example profiles with tags for faculty/staff:

Add your departmental tag like this one: _tags/source/college-of-business/economics.  If the faculty member teaches in multiple areas or disciplines, add all relevant tags.
Step 3 - Creating profile listing pages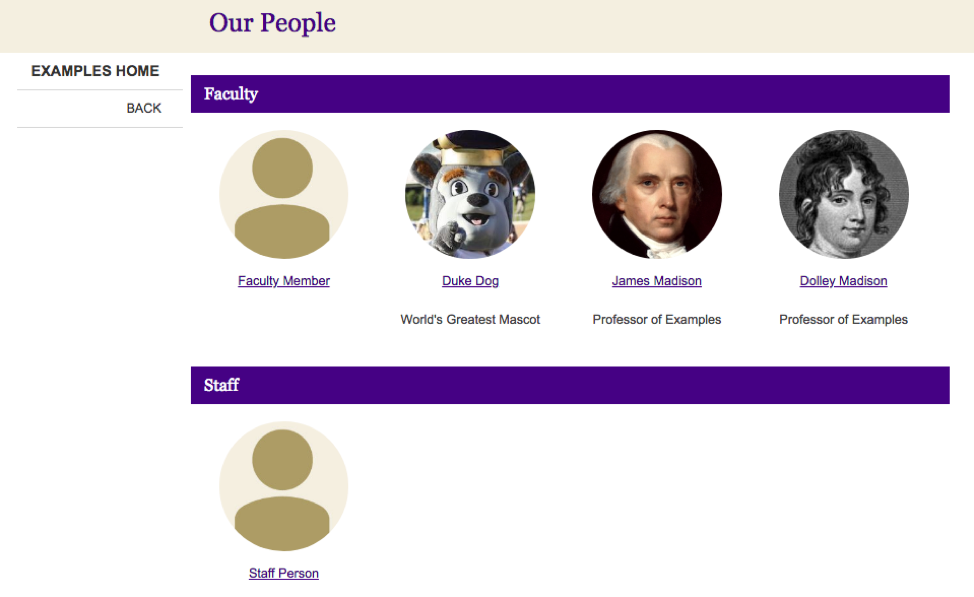 Create a new Secondary page

Copy the

profile feed template

folder to your website's appropriate "_content" folder

Rename both files; replace the word

department

with the title of your department, and remove the capitalized section. For example, rename

department-folder-index-PLEASE-RENAME-TO-YOUR-DEPARTMENT

to

economics-folder-index

if your department is Economics.

On the folder index file, click Edit

In the Index Folder field, select the folder "people" folder containing profiles


Select Edit on the profile-config file

Specify your department's tag for the "Departmental Tag" field (such as "/_tags/source/college-of-business/economics")


If your website contains multiple departments, contact itweb@jmu.edu for assistance.
NOTE: The tag's "tag" value assigns names to headings. If the tag says "Economics," then your section headings will read "Economics Faculty" and "Economics Staff." If the tag says "Economics Faculty," your headings would be "Economics Faculty Faculty" and "Economics Faculty Staff."
In REGION-02 of the page you want faculty to be listed on:
Set the

profile-config

file as the block

Set the Format to display listings in alphabetical or folder order:

For alphabetical order - choose

_shared-formats/profiles/profile-listing-from-tags-alpha-eid-order

. This format relies on the

file names of profiles

; it is important that they are consistent and correct

For folder order - choose

_shared-formats/profiles/profile-listing-from-tags-folder-order 

. To change the folder order, see

Changing profile display order
If you wanted to have another pair of sections, like "Accounting Faculty" and "Accounting Staff" to appear below the Economics folks, just follow these directions again, but with "Accounting" settings instead of "Economics" settings, and wire up the profile-config to REGION-03.
Profile Listing Page example:
Changing profile display order
If your profile listing page is formatted to list profiles in folder order, a new faculty/staff profile may not appear where you want it to on the listing page; instead, it may appear at the bottom of the section.  This is controlled by the format for the profile listing page. The format will either list profiles alphabetically, or in folder order.
If profiles are listed by folder order, you can control the order of profiles:
Locate the folder containing profiles in your website

Right-click the folder and select View

In the folder view, use the arrow to the right of Order to sort profiles by position

Select a profile and use the up and down arrows at the top of the list to move it to a new position (you must click Order first for these arrows to appear once you've selected a profile)

Publish the profile listing page (index page) to view changes
For more information, see Reordering Assets.
Unpublishing profiles
Since deleting files can break links, profiles can be unpublished instead of being deleted
Select the profile you want to unpublish

On the page toolbar, select More > Unpublish

The checkbox for the live site [

www.jmu.edu

] should be checked by default

Click Submit

Republish the profile l

isting page


Moving profiles
Some faculty and staff profiles are separated by section folders, like this example with the sections: adjunct faculty, emeritus faculty, and faculty.
NOTE: Never use this to move profiles across different departments; but you can move files to a "z-archive" this way.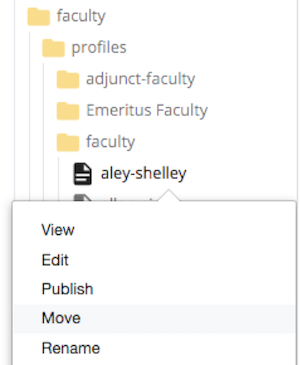 If a profile in faculty needs to be moved to the adjunct faculty folder:
Right-click and select Move
Specify the new folder destination
The checkbox for the live site [ www.jmu.edu ] should be checked by default under Unpublish Content
Submit
You should see a pop-up message: "Move and Rename successful"
Republish the profile page and profile listing page
Deleting profiles
Since deleting files can break links, profiles should be unpublished and moved to the "z-archive" folder of your website instead of being deleted. "z-archive" folders are supposed to be unindexable and unpublishable.
Right-click and select Move
Specify the new folder destination as your site's "z-archive" folder
Below the folder destination, under Unpublish Content, the checkbox for the live site [ www.jmu.edu ] should be checked by default. It's important to make sure this box is checked because it unpublishes the page from the web server
Submit
You should see a pop-up message: "Move and Rename successful"
Republish the profile listing page