You are in the main content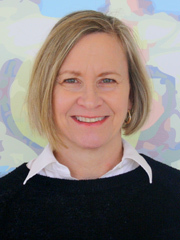 Grace Wyngaard
Professor of Biology

B.S. - University of Rhode Island 
M.S. - University of South Florida 
Ph.D. - University of Maryland 

Phone - 540-568-6668
Fax - 540-568-3333
Office - Bioscience 1028A

Office Hours    | Personal web page

Courses:   Organisms (BIO 114), Biometrics (BIO 454/554), Marine and Freshwater Invertebrates (BIO 409), Scientific Perspectives (GSCI 104)
Research Interests:  Genome reorganization, chromatin diminution, and molecular systematics in copepods
Ongoing project areas in my laboratory include:
Role of transposable elements in genome reorganization of copepods
Molecular systematics and cryptic speciation in Cyclops (Crustacea: Copepoda)
Molecular systematics of marine and freshwater cyclopoid copepods
Quantitative behavior of DNA during development in Mesocyclops edax (Crustacea: Copepoda)
Evolution of genome size
Sun, C., G.A.  Wyngaard, D.B. Walton, H.A. Wichman and R. Lockridge Mueller. 2014. Billions of basepairs of recently expanded, repetitive sequences are eliminated from the somatic genome during copepod development. BMC Genomics 15:186. http://www.biomedcentral.com/1471-2164/15/186
Wyngaard, G.A., Rasch, E.M, and B. Connelly. 2011. Unusual augmentation of germline genome size in Cyclops kolensis(Crustacea, Copepoda): further evidence in support of a revised model of chromatin diminution. Chromosome Research, 19(7):  911– 923, (DOI 10.1007/s10577-011-9234-3).
Bron, J.E., D. Frisch, E. Goetze, S.C. Johnson, C.E. Lee and G. A. Wyngaard. 2011. Observing copepods through a genomic lens. Frontiers in Zoology. 8:22 (doi:10.1186/1742-9994-8-22).
Wyngaard, G.A., C.E.F. Rocha, and A. Pepato. 2011. Familial level phylogeny of free-living cyclopoids (Crustacea: Copeoda), inferred from partial 18S ribosomal DNA.  In: (D. Defaye, E.M. Suárez-Morales and J.C. von Vaupel Klein, eds.) Studies on Freshwater Copepoda: a Volume in Honour of Bernard Dussart . Crustaceana Monographs, 16: 507 – 544.
Wyngaard, G. A., Maria Holyńska, and J. A. Schulte II.  2010. Phylogeny of the freshwater copepods Mesocyclops(Crustacea: Cyclopidae) based on combined molecular and morphological data, with notes on biogeography.  Molecular Phylogenetics and Evolution, 60 (2): 37 – 46.
Rasch, E.M. and G. A. Wyngaard. 2008. Heterochromatin endoreduplication prior to gametogenesis and chromatin diminution during early embryogenesis in Mesocyclops edax (Copepoda: Crustacea). Journal of Morphology, 269(4): 387-397.
Rasch, E.M. and G.A. Wyngaard 2008. Endopolyploidy in cyclopoid copepods. Journal of Crustacean Biology, 28 (2): 412-416.

Rasch, E.M. and G. A. Wyngaard. 2008. Gonomery and chromatin diminution in Mesocyclops longisetus (Copepoda). Journal of Crustacean Biology 28 (1): 180-184.
Suarez-Morales, E., G. A. Wyngaard, M. A Gutierrez-Aguirre and J Costanzo*. 2007. Life history traits of Mesocyclops thermocyclopoides Harada, 1931 (Copepoda, Cyclopoida) with observations on naupliar morphology. Crustaceana, 80(10): 1205-1222.
Grishanin, A.K., E.M. Rasch, S.I. Dodson, and G.A. Wyngaard. 2006. Genetic architecture of the cryptic speices complex of Acanthocyclops vernalis (Crustacea: Copepoda) II. Crossbreeding experiments, cytogenetics and a model of chromosomal evolution. Evolution 60: 37-46.
Rasch, E.M. and G.A. Wyngaard. 2006. Genome sizes of cyclopoid copepods (Crustacea): Evidence of evolutionary constraint. Biological Journal of the Linnean Society 87: 625-635.
Rasch, E.M. and G.A. Wyngaard. 2006. Changes in nuclear morphology associated with elevated DNA levels during gametogenesis in cyclopoid copepod with chromatin diminution. Invertebrate Biology 125: 63-75.
Rasch, E.M, C.E. Lee, and G.A. Wyngaard. 2004. DNA-Feulgen cytophotometric determination  of genome size for the freshwater invading copepod Eurytemora affinis.  Genome 47: 559 – 564.
Dodson, S.I., A.K. Grishanin, K. Gross, and G.A. Wyngaard  2003. Morphological analysis of some cryptic species in theAcanthocyclops vernalis complex from North America.  Hydrobiologia 500: 131 – 143.
Rasch, E.M. and G.A. Wyngaard. Evidence for Endoreduplication: Germ Cell DNA Levels Prior to Chromatin Diminution inMesocyclops edax. Molecular and Developmental Evolution – The Journal of Histochemistry & Cytochemistry 49: 795 – 796.
Wyngaard, G.A and E. M. Rasch.  Patterns of genome size in the Copepoda: in: Alekseev, V., 2000. G.A. Wyngaard, and F. Ferrari (eds). Advances in Copepod Taxonomy: A Tribute to Ulrich Einsle. Hydrobiologia 417: 43 – 56.