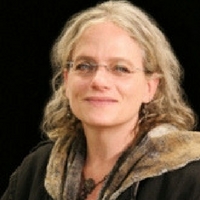 FOR COMPLETE CV, CLICK HERE

FOR SLIDESHOW OF WORK, SCROLL TO BOTTOM OF PAGE.

EDUCATION
M.F.A. Graphics (Photography, Drawing, Printmaking), Bowling Green State University, Bowling Green, OH, Secondary Concentration in Painting
B.F.A. Painting, Longwood University, Farmville, VA, Minors in Sociology and French

AREAS OF EXPERTISE
Traditional photography (B/W), including 35mm, medium and large format;
Alternative processes including 19th century techniques and experimental approaches.  

Ms. Silberman's areas of interest include handmade sensitizers, low-tech adaptations, miniatures, optics, and illusions.
PREVIOUS EXPERIENCE
Ms. Silberman has been a full time faculty member since Fall 2005. Prior to that, she has been adjunct faculty and a visiting instructor at James Madison University and the University of Virginia. Ms. Silberman also was a teaching assistant 1987-89 at Bowling Green State University in Bowling Green, Ohio.
GRANTS AND FELLOWSHIPS
Ms. Silberman has won an Arts Council of the Valley Creative Inspiration Grant, Harrisonburg, VA, 2013-2014; and an Individual Artist's Fellowship through the Virginia Commission for the Arts for Works on Paper. In 2003 she attended an artists' retreat in Baltimore, MD funded by Creative Capital and The Mid Atlantic Arts Foundation.  In 1996, Ms Silberman was a finalist for a National Endowment for the Arts Mid Atlantic Individual Artist Fellowship. She has also been an Artist-in-Residence in the Clinton Public Schools in Clinton, NY.
HONORS AND AWARDS
Highlights of awards include a First Place award in "Celebrating Women in the Arts,"  an Invitational Exhibition at Les Yeux du Monde, Gallery, Charlottesville, VA 2007;  the Qualex Award in the International Photography and Digital Image Exhibition, juried by Olivia Parker, East Carolina University, Greenville, NC, 1997; Best in Show, "Regional Exhibition," Johns Hopkins University, Baltimore, MD, 1996;  Juror's Award , Photropolis '95, jurors Diana Gaston,  Suda House and Richard A. Lou: Invitation to submit portfolio for review by the curatorial staff of the Museum of Photographic Arts of San Diego, San Diego, CA; Jurors' Purchase Award for the City of Mesa, Arizona, "Drawn to the Extreme," Galeria Mesa, Mesa, AZ, 1993; Grumbacher Best of Show Gold Medal Award, The North Coast Collage Society, National Juried Exhibit, Spokane, WA, 1992. This work traveled for a year and was on display in the Governor's Gallery in Olympia, WA.
SCHOLARSHIP
Selected solo exhibitions include "Everything in its Right Place," ArtGallery, Norfolk, Virginia, 2010; "I waited for you, but you never came," Arts Council of the Valley, Darrin-McHone Gallery, Harrisonburg, VA, 2010; "All Things Together, All Things Apart and Everything Left Over," Staunton Augusta Art Center, Staunton, VA, 2009; "Listening for Lazarus," James Madison University Harrisonburg, VA, 2001; "Proof," Artemisia Gallery, Chicago, IL, 2000; "Self Storage," Kirkland Art Center, Clinton, NY, 1998; "Cover," Austin Peay State University, Clarksville, TN, 1998; Western Michigan University, Kalamazoo, MI, 1997; Piedmont Virginia Community College, Charlottesville, VA. 1997; "Cover(s)," Urban Institute for Contemporary Arts, Grand Rapids, MI, 1997; "Odd Numbers," George Washington University, Virginia Campus, Ashburn, VA, 1996; "Black Sheep," New Image Gallery, James Madison University, Harrisonburg, VA, 1996; "I'm Not Making This Up," Warren Wilson College, Asheville, NC, 1995; "Trick Question," An Art Place Gallery, Chicago, IL, 1994; University of Wisconsin-Marshfield, Marshfield, WI 1994. Additionally, Ms Silberman has been in over a hundred group, invitational and juried exhibitions throughout the United States.

COLLECTIONS
Capital One, Richmond, VA
City of Mesa Arizona
Julilly Kohler (Kohler-Clark Gallery), Milwaukee, WI
Private collections
PUBLICATIONS
Books
The Printmakers Left. "The Land of Wandering" (book accompanying collaborative exhibition of the same name). University of Virginia Press, 2005. http://www.upress.virginia.edu/title/3646
Selected catalogs
Brookman, Phillip (juror). "Fresh Works: A Celebration of Virginia Photography." Catalog produced by The Virginia Society for Photographic Arts, June 2001.
Carter, Curtis. "Wisconsin Artists: A Celebration of Jewish Presence."  Catalog published by Haggerty Museum of Art, Marquette University, Milwaukee, WI, 1994, pp. 13 - 14.
Greenwell, Stuart (juror). "A Swinging Affair: WPA/Corcoran Art Auction." Catalog produced by Washington Project for the Arts and the Corcoran, 1998, pp. 25, 42.
Levitt, Alfred (juror). "Mid-Atlantic New Paintings 97." Catalog produced by Mary Washington College Galleries, 1997, p. 19.
Markarian, Alexia. "Photropolis 95."  Essay for catalog produced by the San Diego Art Institute, 1995.
McGough, Laura (curator). "WPA/Corcoran: Excavation." Washington Review, Vol. XXIV, No. 1, June/July 1998, pp. 32, 34, 39.
Parker, Olivia (juror). "International Photography and Digital Image." Catalog produced by Wellington B. Gray Art Gallery, East Carolina University, 1997, p. 24.
Photography Quarterly, "Perfect Present," Center for Photography at Woodstock, 2001, No. 82, p. 11.
Platt, Karen (curator). "Provacare: Emerging Artist Showcase." Catalog produced by North Valley Arts Council and U S West, 1995.
Pollen, Jason and Stevens, Rebecca A. T. and Ziek, Bhakti (jurors). "Fiberart International 99." Catalog produced by Pittsburgh Center for the Arts and The Society for Contemporary Crafts, 1999, p. 23.
Talbot-Stanaway, Susan (curator), "Expression and Commentary." Catalog produced by the Neville Public Museum, Green Bay, WI, 1991, p. 4.
Woods, Suzanne (curator). "Directions in Contemporary Printmaking." Catalog produced by the University of Wisconsin – Stevens Point, October 1999, p. 4.
Selected Articles
Bettmann, Robert  (editor and curator). "Modern Music Boxes by Rebecca Silberman." Bourgeon Magazine, Day Eight, April 1, 2015; http://bourgeononline.com/2015/04/modern-music-boxes-by-rebecca-silberman/
Clarke, Jessica. "'a mad, round world': Gallery's Eerie Images Combine Fact, Fantasy,"Daily News-Record, Skyline, January 26, 2001, pp. 16 - 17.
Clarke, Jessica. "Night Vision: Women Ponder Life, Death in "Seeing in the Dark" Exhibit," Daily News-Record, Skyline, September 28, 2001, pp. 14-15.
Cheseborough, Steve. "Galeria Mesa art exhibit goes to the extreme." Arizona Republic, September 29, 1993.
Choi, Sukjin. "Rebecca Silberman, Everything in its Right Place" The Korean Times, December 7, 2010, D7.
Kooyers, Catherine. "Arts Watch." Grand Rapids Image, August 1997, pp. 13 – 14.
Krissoff, Sylvia. "Something to think about." The Grand Rapids Press, August 3, 1997.
McLeod, Deborah. "Tempting the Truth."  Richmond Times Dispatch, Style Weekly, June 19, 2001, p. 26.
Merrill, Jennifer. "n. 1. to provoke." High Plains Reader. Vol. 1, Issue 18, May 11, 1995, p. 14.
Pincus, Robert L. "'Photropolis' show a bold centerpiece of broadened Artwalk." The San Diego Union Tribune, Night & Day, April 6, 1995, p 41.
Potuto, Danielle. "Soul Asylum." The Breeze, Style, January 25, 2001, pp. 19, 26.
Rademacher, Jean. "Quilts display many intricate themes." The Citizen Auburn, New York, November 8, 1995, C1-2.
Reilly, Mary Bridget. "Exhibit pretends everything is normal." University of Cincinnati Currents, Vol. 5, Issue 14, January 26, 1996.
"Up and Coming: Six Virginia Photographers on the Rise," 64 Magazine, Vol. 2, No. 7, September 2001, pp. 56 -57.
Selected Reviews
Crigler, Cynthia. "Fall Back, Spring Forward. "Art Muscle, Vol. 5, Issue 1, October/ November 1993, pp. 12 – 13.
Culjis, Lisa. "In Review: Added Layers." MatrixArts Quarterly, Summer 2000, p. 4.
Duncan, Kele. "Added Layers w/ Geri Lu Jurey, Terri Ramirez, Rebecca Silberman, Liz Hall." Uptown Arts and Community News, July/August 2000, p. 1.
Gjertson, Sarah. "Grava Gallery, Rebecca Silberman: The Last Straw and Other Ones After That." Goings On, vol. 5, issue 2, spring 1993, p. 7.
Greenwald, Lori A. "Artist uses photos in art." Marshfield/ Wood County Insight, November, 1994.
Mills, Kerry.  "Domesticity: Nostalgia and Memory." Articulate Contemporary Art Review, Vol. 3, Issue, 3, April 1997, pp. 12 –13.
NEWCITY Chicago, "Seeing in the Dark," review, June 21, 2001, p. 25.
Zawadiwsky, Christina. "The Last Straw." Art in Wisconsin, bimonthly newsletter, September/October 1992, pp. 6 – 7.
PUBLIC SERVICE
Ms. Silberman has presented Visiting Artist Lectures and Workshops at George Mason University, Mary Baldwin College, University of Wisconsin-Marshfield, Marshfield, WI, University of Wisconsin-Stevens Point, Stevens Point, WI, Warren Wilson College, Asheville, NC, Piedmont Virginia Community College, Charlottesville, VA, Western Michigan University, Kalamazoo, MI, Austin Peay State University, Clarksville, TN, Manhattanville College, Purchase, NY, Virginia Commonwealth University, Continuing Education Outreach, Louisa , VA, University of Virginia, Charlottesville, VA  and Orange Art Center, Orange, VA. Additionally she enjoys conducting tintype demos with short history of photography lectures in area high school photography programs.
UNIVERSITY AND PROFESSIONAL SERVICE
Supervises darkroom assistants; maintains darkrooms and equipment; director of New Image Gallery, fall 2006-2015; faculty advisor to student run gallery, artWorks, fall 2007; School of Art, Design and Art History Gallery Committee, 2006-2014; represented the College of Visual and Performing Arts in the University Honors Program 2005-2011; PAC (Personnel Action Committee), Chair 2012-2013; PAC and College of Visual and Performing Arts FLAG (Faculty Leave Awards and Grants) committees, 2014-2015; advises undergraduate majors and photo graduate students; graduate faculty member; serves on MFA thesis committees and as MFA thesis and Honors thesis advisor (see CV for full list). 

(SLIDESHOW OF REBECCA SILBERMAN'S WORK)