Caroline Esbenshade: Studio Art & SMAD
Year Graduated
2011
Major/Minor
Studio Art & SMAD
Noteworthy campus achievement 
Alan Tschudi Outstanding Student in Studio Arts & Scholarship.2010-2011.
James Madison University Undergraduate Art Exhibition Award. 2010-2011.

What are you up to now?
Right now I'm living in Melbourne, Australia working as an artist. I recently completed an artist's residency with Wyndham Council, my local council. I also recently launched a small business with my mother selling prints of my paintings.
How does your art major/minor inform your career?
I've been working very hard to make my major into my career and thankfully its beginning to come together. My SMAD and Studio Art major have allowed me to be well rounded in the arts, and I'm looking forward to how they will continue to be reflected in my career path here in the future.
What are some of the most valuable skills you gained from the School of Art, Design and Art History?
The basics of gallery work, learning how to talk about my artwork, and how to push through a painting to achieve something really special are the skills that come to mind but there are many, many more.
What is your advice for JMU students knowing what you know now?
At this point and time many people in our generation, artists or not, are having to work as freelancers or as small businesses. Make sure that you not only have the skills for your chosen career path but also business basics. 
Website/ Blog
http://www.cesbenshade.com/
https://www.facebook.com/carolineesbenshade/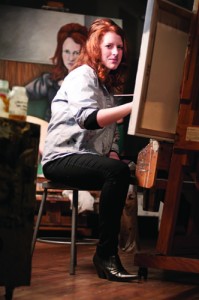 Art, Design and Art History
Duke Hall
MSC 7101
820 S. Main
Harrisonburg, Virginia 22807
800 South Main Street
Harrisonburg, VA 22807
Contact Us