Edith J. Carrier Arboretum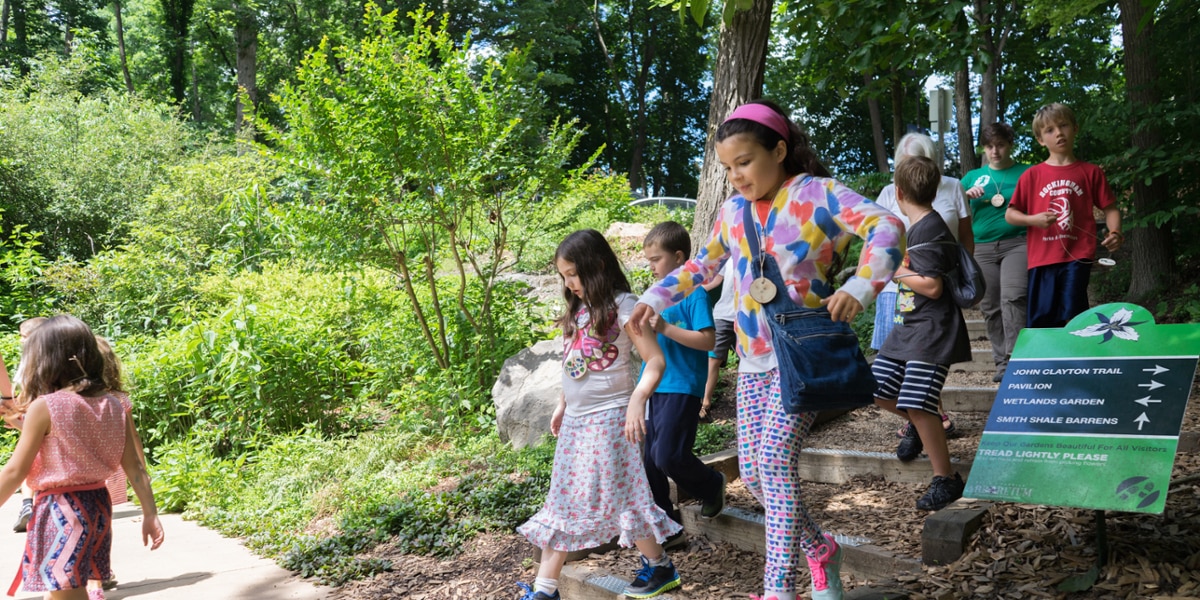 The Herp Hop
JMU Herpetology Outreach Program
SATURDAY, OCTOBER 6 | 12 PM - 1 PM
SATURDAY, OCTOBER 20 | 1 PM - 2 PM
Explore the world of herpetology by getting up close and personal with amphibians and reptiles (herps) at the Edith J. Carrier Arboretum this fall! Join the JMU Herpetology Outreach Program for an afternoon exploring the native creatures of the Arboretum through a storytime, craft, and an engaging live animal presentation.
Meet at the Jurney Stage Garden
No registration required
Children's Harvest Festival
SATURDAY, OCTOBER 20 | 11:00 AM - 2:00 PM
Come enjoy a beautiful fall afternoon with your family at our 10th Annual Children's Harvest Festival! Live music from Note-oriety JMU's premier award-winning all-female a cappella group, the JMU Brass Quintet, and Lightning Lucas along with special guests, The Duke Dog, our favorite horses of Classic Carriage, students from the JMU Herpetology Outreach Program and many more! 

Activities include: 
- Live Music
- JMUke Learn and Jam: Ukulele jam sessions and music stations
- Face Painting & Caricatures
- $3 Hay Rides with Classic Carriage
- Herp Hop (Reptile & Amphibian demonstration) 
- Storytime provided by The Gus Bus "Reading Road Show"
- Farm Animal Petting Zoo 
- Craft Tables led by JMU Art Education Students

Free admission!

Additional public parking is available in Convo Lots, R5, C11, C12, and D3. 

Severe inclement weather automatically cancels this outdoor event.
Wondercraft: Nature-Based Creations
SATURDAY, NOVEMBER 3 | 10 - 11:30 AM
Explore the forest on a guided tour led by our education coordinator highlighting habitats of the Arboretum's residents, such as flying squirrels, salamanders, and ducks! Then join instructors from JMU's Art Education department for a series of station-based activities on the theme. Create sculptures of wildlife out of recycled egg cartons, found-object baskets, and a habitat hero using natural materials collected on the walk!
This creativity-focused, educational children's workshop is free! A parent or caregiver is welcome to attend with their child. Rain or shine, meet at the Frances Plecker Education Center. 
**Registration is FULL**
The Arboretum Backpack Program
We're excited to introduce the Arboretum Backpack Program! This program lends out educational, themed backpacks for children at no charge. Each backpack explores a different topic and helps guide parents and children through a self-directed, educational experience during their visit to the Arboretum.
HOW IT WORKS
1. Visit the Frances Plecker Education Center (FPEC) to sign out a backpack of your choice:
- Reptiles & Amphibians
- Flowers
- Exploring Trees
- Forest Mammals
- Butterflies
- Insects
- Macroinvertebrate Study
2. Leave a driver's license with us at the FPEC, to be picked up after the backpack is returned.
3. Enjoy the backpack's activities and adventure onward!
ANNUAL CHILDREN'S EVENTS
February
Spring Children's Art Workshops

March
Wonderwater Children's Workshop
Spring Children's Art Workshops

April 
Docent-Guided Tour Season begins
The Herp Hop
Fairy Houses and Gnome Homes
Virginia Arbor Day Public School Gift Tree Planting Ceremony 

May
Fairy Houses and Gnome Homes

June
Storytime in the Understory
Explorer Camp

July
Storytime in the Understory
Big Bug Hunt

August
Storytime in the Understory

September
Wonderground Children's Workshop

October: Children's Harvest Festival
Docent-Guided Tour Season ends October 31
Edith J. Carrier Arboretum
780 University Blvd, MSC 3705
Harrisonburg, Virginia 22807
(540)-568-3194 | ejcarboretum@jmu.edu 
Grounds | Free to the public | Dawn to dusk | 365 days a year
Frances Plecker Education Center | Monday - Friday | 8 AM - 4 PM