Edith J. Carrier Arboretum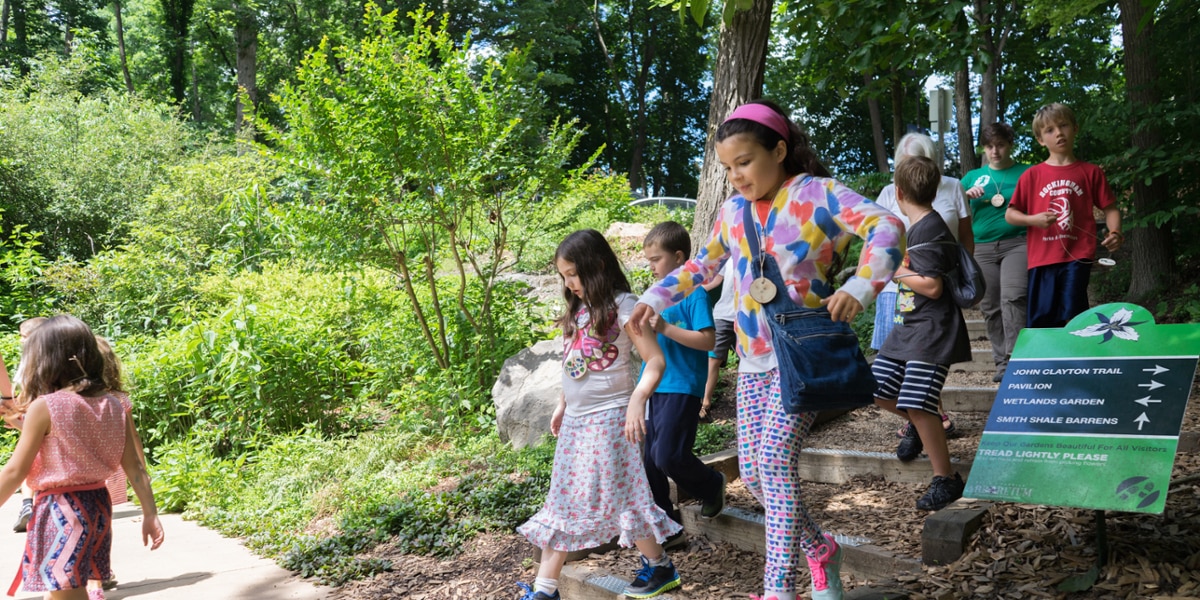 WonderEarth: Rocks & Minerals
With Dr. Chiara Elmi of the JMU Geology Department
SATURDAY, MARCH 23 | 12 - 1 PM
FREE
Join Dr. Chiara Elmi, assistant professor of mineralogy from JMU's Department of Geology and Environmental Science, as we explore some of the inorganic components of the Arboretum! Participants will hunt for rocks like basalt and sandstone and will observe and identify what we find together. Then, using a series of tests, we will analyze the physical properties of minerals like quartz and pyrite with help from JMU Geology students.
Meet at the Frances Plecker Education Center. Recommended ages 5 - 11. Advanced registration required:
The Arboretum Backpack Program
We're excited to introduce the Arboretum Backpack Program! This program lends out educational, themed backpacks for children at no charge. Each backpack explores a different topic and helps guide parents and children through a self-directed, educational experience during their visit to the Arboretum.
HOW IT WORKS
1. Visit the Frances Plecker Education Center (FPEC) to sign out a backpack of your choice:
- Reptiles & Amphibians
- Flowers
- Exploring Trees
- Forest Mammals
- Butterflies
- Insects
- Macroinvertebrate Study
2. Leave a driver's license with us at the FPEC, to be picked up after the backpack is returned.
3. Enjoy the backpack's activities and adventure onward!
ANNUAL CHILDREN'S EVENTS
February
Spring Children's Art Workshops

March
Wonderwater Children's Workshop
Spring Children's Art Workshops

April 
Docent-Guided Tour Season begins
The Herp Hop
Fairy Houses and Gnome Homes
Virginia Arbor Day Public School Gift Tree Planting Ceremony 

May
Fairy Houses and Gnome Homes

June
Storytime in the Understory
Explorer Camp

July
Storytime in the Understory
Big Bug Hunt

August
Storytime in the Understory

September
Wonderground Children's Workshop

October*
Children's Harvest Festival
The Herp Hop

November
Wondercraft Children's Worshop

*Docent-Guided Tour Season ends October 31
Edith J. Carrier Arboretum
780 University Blvd, MSC 3705
Harrisonburg, Virginia 22807
(540)-568-3194 | ejcarboretum@jmu.edu 
Grounds | Free to the public | Dawn to dusk | 365 days a year
Frances Plecker Education Center | Monday - Friday | 8 AM - 4 PM