Edith J. Carrier Arboretum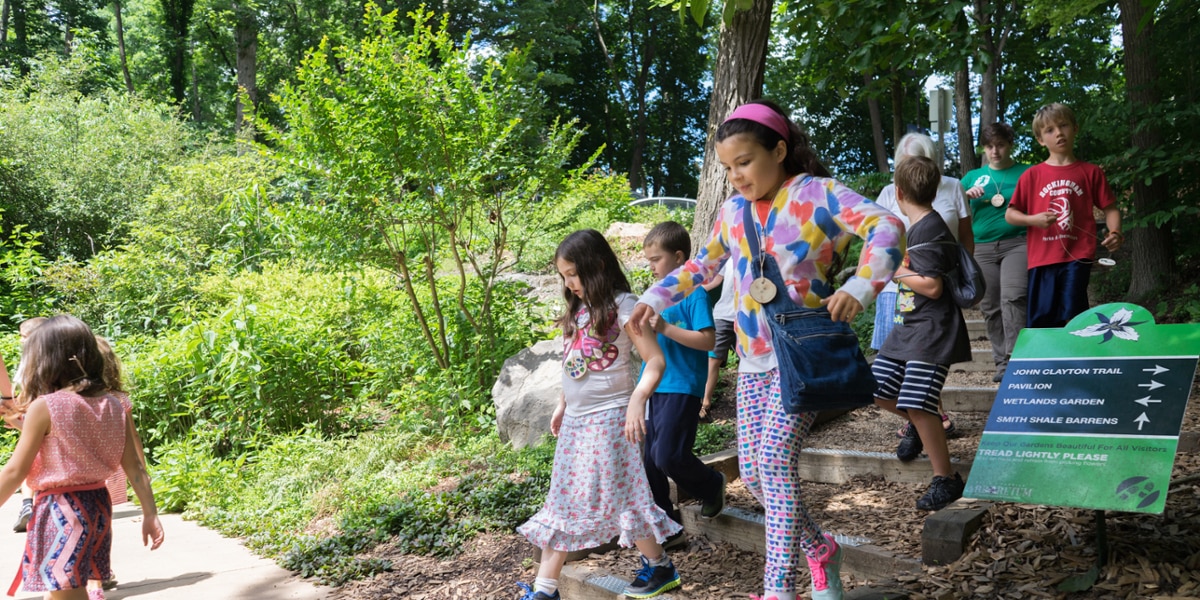 Storytime in the Understory
Tuesdays | June 12, July 10, August 14
11:00 AM - 12:00 PM
Stories come to life for young children with animated readings on the second Tuesday of each month this summer, June through August. Young story enthusiasts will develop an understanding of the importance of nature and how healthy environments support health and variety in plant and animal life from children's literature selections. Bring a picnic blanket or lawn chairs and a picnic lunch to enjoy after our Storytime.
On days when the sun is shining and the temperatures are warm Storytime is outside at the Jurney Stage Garden! In the case of inclement weather, storytime comes indoors.
Free event, registration required:
Youth Nature Journaling Workshop 
Instructor, Kelli Hertzler | Local Artist + JMU Alum
Friday, June 15 | 9 AM - 12 PM
Ages 12 - 18
Nature Journaling is the antithesis to SOLs and a perfect way to reorient the brain for independent summer learning. Students will learn the basics in this one-session class where they will be equipped with tips, how-tos and inspiring ideas to kick-start what may become a life-long hobby. We will explore the arboretum's rich variety of flora and fauna, putting our new skills to work right away. Close observations will lead to accurate drawings and insightful notes. Our focus will be on making first-hand discoveries of plants, animals and their relationships to their environment. Previous art skill is not necessary!
Cost: $25/Student
Registration closed
Explorer Camp
June 18 - June 22
Morning camp (ages 5-7) 9:00 AM - 12:00 PM
Afternoon Camp (ages 8-10) 1:00 PM - 4:00 PM
Young nature enthusiasts are invited to spy on birds, turn over logs, search for salamanders, meet 100-year-old trees, and more this summer at the Arboretum Explorer Camp. Campers will investigate the natural life of the Edith J. Carrier Arboretum through activities, fun instructional time, guided nature walks, scavenger hunts, and crafts! Five different days of local flora and fauna will include hands-on exploration of plants, birds, reptiles and amphibians, aquatic life, and insects. Campers will leave with new skills of observation and wildlife identification, an appreciation of the forest ecosystem, and a love for nature. Instructors include Arboretum staff, JMU professors, JMU Biology students from the JMU Herpetology Outreach Program, and local Master Naturalists.
New for 2018! We will take a field trip to the Virginia Wildlife Center in Waynesboro, Virginia to see and learn about owls, hawks, and eagles in the outdoor raptor enclosures. 
Cost: $80/Child
The Big Bug Hunt
Tuesday, July 17
12:00 PM - 1:00 PM
Free Event! No registration required
Insects don't bug US here at the EJC Arboretum! Come with us on a scavenger hunt for the fascinating insects that call the arboretum home! Learn about the different parts of an insect and how invertebrates, such as spiders and millipedes, are all different. Children of all ages will learn how to make friends with the bugs in their backyard while learning about all types of insects! After our bug hunt, create your own stick bug to take home!
*Severe inclement weather cancels this program*
ANNUAL CHILDREN'S EVENTS
February
Spring Children's Art Workshops

March
Wonderwater Children's Workshop
Spring Children's Art Workshops

April 
Docent-Guided Tour Season begins
The Herp Hop
Fairy Houses and Gnome Homes
Virginia Arbor Day Public School Gift Tree Planting Ceremony 

May
Fairy Houses and Gnome Homes

June
Storytime in the Understory
Explorer Camp

July
Storytime in the Understory
Big Bug Hunt

August
Storytime in the Understory

September
Wonderground Children's Workshop

October: Children's Harvest Festival
Docent-Guided Tour Season ends October 31
Edith J. Carrier Arboretum
780 University Blvd, MSC 3705
Harrisonburg, Virginia 22807
(540)-568-3194 | ejcarboretum@jmu.edu 
Grounds | Free to the public | Dawn to dusk | 365 days a year
Frances Plecker Education Center | Monday - Friday | 8 AM - 4 PM