Division of Access and Enrollment Management
James Madison University will inaugurate Jonathan R. Alger as the university's sixth president on Friday, March 15, 2013. Read More >
Thinking critically about the environment is a small part of a larger mission for the Office of Environmental Stewardship and... Read More >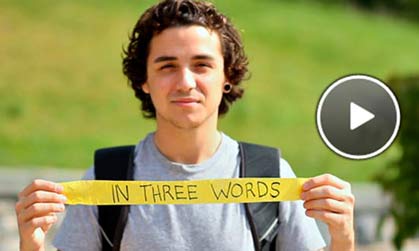 Just for fun, we asked JMU students to describe their Madison Experience in three words. Visit JMU Admissions. Read More >
JMU Mission Statement
We are a community committed to preparing students to be educated and enlightened citizens who lead productive and meaningful lives.

The offices within the Division of Access and Enrollment Management support the university mission through the recruitment and retention of students and the coordination of university events such as commencements. In addition, we support the strategic emphases of the institution, specifically in promoting and sustaining our efforts for a diverse community and a campus that embraces environmental stewardship. The division coordinates the enrollment activities to promote a quality environment that fosters a successful transition to college through graduation.
Centennial Scholars

Financing the cost of higher education is a major barrier that has kept qualified and deserving students from low socio-economic backgrounds from attending college. The Centennial Scholars Program is rooted in JMU's commitment to serving the citizens of the Commonwealth of Virginia in a fair and equitable manner.

Diversity Web

Connecting students, faculty and staff with the people needed to explore campus diversity through its people and experiences is the foundation of Diversity Web.