You are in the main content
Degree Completion
Nearly there?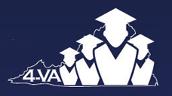 With 4-VA, students with an associate's degree from one of Virginia's community colleges can get a bachelor's degree from James Madison University.
The courses in every 4-VA degree are designed to help you develop the skills Virginia employers say they want and need. And because they are online, you can work toward your degree from anywhere and at any time.
4-VA at JMU
4-VA participants at JMU earn their degree through our Adult Degree Program within Outreach & Engagement. You will be earning your Bachelor of Individualized Studies (BIS) and choosing from a number of areas of study to build your concentration. The BIS is our most flexible degree, allowing you to take advantage of the transferable credits you already have and tailor your degree for new skills and career-related competencies.
In order to qualify for this program, you must:
Be 22 or older,
Have an approved associate's degree from a Virginia community college, with at least 60 transferable credits (you may also have transferable credits from other institutions, if applicable), and
Have a minimum GPA of 2.0 (C average).
How to apply in three easy steps:
1
Have transcripts from all two- and four-year colleges you have attended sent to Adult Degree Program, James Madison University, MSC 6906, Harrisonburg, VA 22807.
2
Wait for the results, fill out our online application and pay the application fee. Once the Adult Degree Program office has received all of your transcripts, they will be forwarded to the Registrar's office for transfer credit evaluation. If it's determined that you have an appropriate amount of transferable credits, the director of the Adult Degree Program will contact you with the results and instructions on how to apply to the university and the Adult Degree Program. Your application will need to be submitted online along with a $50 application fee. If you have not sent transcripts for transfer credit evaluation, approval for admission will not be given.
3
Pay the deposit, create your JMU user account and register for courses! After your admissions application has been approved and processed, you will receive an acceptance email from the Adult Degree Program office and an invoice for the required $250 tuition deposit. After your deposit is paid, you will be able to create your JMU user account and register for courses.
Questions?
Call the Adult Degree Program at 540-568-6824 or email brownpg@jmu.edu, or
Call Outreach & Engagement at 540-568-6824 or outreach@jmu.edu.